Right Now: overcast with an air temperature of 59° at Kentucky Lake. Get detailed current weather, radar, and hourly forecasts.
Kentucky Lake, Lake Barkley Levels & Conditions
Conditions as of 2 PM 3/20/2019
Upper
Lower
Water

Kentucky Lake

Water Clarity:
Heavily Stained

Current: 199,800 cfs / Strong

355.5'

331.9'

52°

Lake Barkley

Water Clarity:
Muddy, Some Debris

Current: 90,600 cfs / Strong

355.6'

336.3'

Normal

354.0'

302.0'

54°
Special Lake Information & Notices
Normal Lake Conditions In Sight

The long-term lake levels and discharge forecast from TVA's River Forecast Center continues to call for a downward trend over the next week. In fact, this time next week, Kentucky Lake is forecast to be near winter pool with only 110,000 cubic feet per second being discharged. Unless we receive more rain or if flooding ramps up on rivers downstream, we expect the lakes to be where they should be by the end of the month.
Forecast
Kentucky Upper
Kentucky Flow
Barkley Upper
Barkley Flow
Today

5:00pm

355.6'
199,150 cfs
355.5'
92,500 cfs

11:00pm

355.5'
198,340 cfs
355.5'
90,000 cfs
3/21

5:00am

355.4'
197,130 cfs
355.4'
90,000 cfs

11:00am

355.5'
173,770 cfs
355.4'
90,000 cfs

5:00pm

355.6'
152,730 cfs
355.6'
76,670 cfs

11:00pm

355.7'
155,040 cfs
355.6'
75,000 cfs
3/22

5:00am

355.7'
155,560 cfs
355.6'
75,000 cfs

11:00am

355.6'
154,810 cfs
355.6'
75,000 cfs

5:00pm

355.6'
154,060 cfs
355.5'
75,000 cfs

11:00pm

355.5'
153,310 cfs
355.4'
75,000 cfs
3/23

5:00am

355.4'
151,690 cfs
355.3'
75,000 cfs

11:00am

355.2'
149,440 cfs
355.1'
75,000 cfs

5:00pm

355.1'
147,190 cfs
355.0'
75,000 cfs

11:00pm

355.0'
144,940 cfs
354.9'
75,000 cfs
Explanation of Values
Water temperatures are reported from Hancock Biological Station on Ledbetter Bay at Kentucky Lake and are measured at the surface. Click here for a chart of normal water temps.

Change - this shows the difference in the past 24 hours.
Normal - this shows the departure from normal.

cfs = cubic feet per second, which is the amount of water that is discharged through the dams.
Water Clarity - "stained" means some murkiness or discolor in the lakes. "Normal" means typical clarity, usually 3-4 feet for Kentucky. "Muddy" means no clarity at all.

Lake elevation is based on sea-level. Strength of current is based on the discharge rate at the dams. Kentucky Lake is much larger than Lake Barkley, so 100,000 cfs at Barkley Dam produces stronger current than 100,000 cfs at Kentucky Dam. Use this unofficial chart to compare current strengths.

Lake elevations and current forecasts are provided in real-time from TVA and the NWS.
The Kentucky Lake Operating Guide is provided by TVA.
Kentucky Lake Operating Guide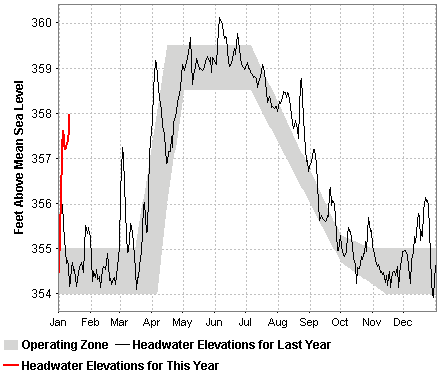 Normal Lake Stages
May 1 - July 1: Summer Pool - 359.0'
Dec. 1 - March 31: Winter Pool - 354.0'
The gray-shaded area in the chart above shows the target lake stages for Kentucky Lake throughout the course of a year.
Kentucky Lake & Lake Barkley Records
Kentucky Lake Record High: 372.49' set on May 4, 2011
Lake Barkley Record High: 372.49' set on May 4, 2011
Kentucky Lake Record Low: 348.02' set on March 11, 1961
Lake Barkley Record Low: 352.3' set on April 19, 1982
Kentucky Lake Record cfs: 446,000 set in 1944
Lake Barkley Record cfs: 303,000 set on May 4, 2011
Lake Barkley Lower Record High: 350.8' set on May 4, 2011
Kentucky Lake Record High Water Temp: 90.8° set 8/2/11
Kentucky Lake Record Low Water Temp: 36.2° set 1/12/2010