Travel Tools
Traveling to the Kentucky Lake, Lake Barkley, or Land Between The Lakes?  Our Traveling Tools will help you get here, no matter if you're looking to take a vacation or if you are considering relocating or retiring to our area.
Current Travel Alerts
Before heading to Land Between The Lakes, "Call Before You Haul" for trail closures, Turkey Bay OHV Conditions and more.  The toll-free number is 1-800-LBL-7077.
The Western Kentucky Parkway between the Pennyrile Parkway is now known as Interstate 69.
Interstate 24 from the end of the Western Kentucky Parkway to the Purchase Parkway will be multiplexed with the new I-69.  Eventually the Purchase Parkway at Calvert City to the Kentucky/Tennessee State line will be Interstate 69. 
The new Eggners Ferry Bridge at Aurora and the new Lake Barkley bridge at Canton is open to traffic.
US 68/KY 80 in Trigg County is being expanded to four-lanes between Cadiz and Lake Barkley.  Some slight delays from time to time are possible.
Mileage Chart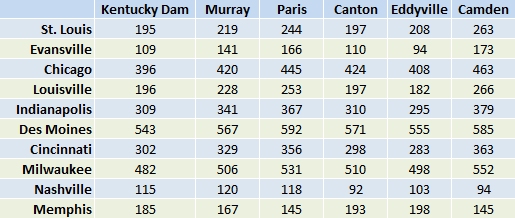 Weather
View the latest weather forecast for the Kentucky Lake area.  You can also check out our seasonal averages.
Accessibility
You can read about handicapped-accessible areas of the Land Between The Lakes and Kentucky Lake here.
Relocating to the Kentucky Lakes Area
The Kentucky Lakes Area is a wonderful place to relocate or retire.  Several publications have found Murray, Kentucky and Paris, Tennessee as some of the nation's top locations to retire.  Abundant land remains available for development on both Kentucky Lake and Lake Barkley.  There are also several wonderful waterfront homes to fit all budgets.