Thinking of relocating to the Kentucky Lake area? Well, you're certainly not alone, as many people are now choosing to call western Kentucky and northwestern Tennessee their home. With an abundance of educational opportunities and recreation options, a slower pace of life perfectly suited for retirees, beautiful natural scenery, unique dining experiences, and exciting attractions for all ages, it's not difficult to see why this area is so attractive a destination.
The communities of Murray, Kentucky, and Paris, Tennessee, are consistently ranked among the top retirement destination in the United States.
In 2008, Murray was recognized by Back Home in Kentucky magazine as one of the top retirement communities in Kentucky. In 2001, it was selected as one of only eight cities in the state as a Certified Retirement Community by the Kentucky Tourism Development Cabinet. Murray also received the "Friendliest Town" award by Rand McNally in 2012.
Paris is famous for the World's Biggest Fish Fry, with its week-long hometown celebration and catfish feast. The Paris Landing State Park Golf Course is home to six courses to hone your golf skills, while the park itself is a perfect setting for weekend getaways or family reunions.
Quality educational opportunities exist for all ages in the Kentucky Lake area. Comprehensive and nationally-recognized city and county school systems offer excellent elementary and secondary education experiences in Livingston, Lyon, Trigg, Calloway, and Marshall counties in Kentucky and in Stewart and Henry counties in Tennessee.
Murray State University is perennially ranked as one of top universities in the south by U.S. News & World Report. With satellite campuses in Paducah, Hopkinsville, Madisonville, and Henderson and course offerings online, MSU provides more opportunities than ever to obtain a college degree.
MSU is also home to the men's Racer basketball team, one of the winningest programs in NCAA Division 1 basketball. The Racers host their games in the CFSB Center, an 8,600-seat multi-purpose facility which plays host not only local sporting events but also great concerts, family events, outdoors and trade shows, and conferences. High school sports and local recreational sports leagues for all ages provide ample opportunities both watch and participate in athletics on a year-round basis.
For the outdoor enthusiast, the Land Between The Lakes National Recreation Area provides endless opportunities for enjoyment. Managed by the United States Forest Service and the U.S. Department of Agriculture, LBL is a prime destination for biking, camping, fishing, hiking, horse riding, hunting, picnicking, sightseeing, water activities, and wildlife viewing.
The Woodlands Nature Station serves as the area's gateway to LBL's rich natural attractions, while the Elk & Bison Prairie features a 700-acre enclosure of freely-roaming elk and bison which have been reintroduced to the area. Visitors to LBL can travel back in time with a visit The Homeplace 1850, which features a working history farm, or travel to the stars at the Golden Pond Planetarium and Observatory.
When you're not too busy taking advantage of all the recreational opportunities the area has to offer, you can enjoy some wonderful and unique dining experiences, such as Patti's 1880's Settlement in Grand Rivers, Kentucky.
Voted the number one Restaurant for Tourism in the state of Kentucky, Patti's has also received the U.S. Chamber of Commerce's Blue Chip Award and a Pork Producers Award and was voted the Best Small Town Restaurant in the Southeast United States in the Southern Living Magazine's Readers Choice Awards.
Patti's is also home to numerous gift shops and activities and features a dazzling Festival of Lights each year to celebrate the holiday season.
As you can see, there is no shortage of compelling reasons to consider a move to the Kentucky Lakes Area. ExploreKentuckyLake.com features a list of realtors (see below) who would love to assist you in every phase of your relocation process. Who knows? We may even see you soon!
Kentucky Lakes Area Real Estate Agencies
Gold Level Real Estate Agencies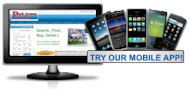 Search Listings
Save Favorites
Email Questions

Schedule Showings
Quick Easy & Free!
Updated Daily
It's real estate made easy! Whether you are buying or selling the smallest piece of property or the highest end waterfront, we would consider it an honor to serve you. We invite you to meet our Realtors and read testimonials shared by our clients on our website. Visit Park Avenue Properties online
Bronze Level Real Estate Agencies
Other Real Estate Agencies
Buck Master Realty, LLC
770 Salmon Ranch Road
Erin, TN 37061
(931) 764-0171


Century 21 Southern Heritage RE
6586 US Hwy 641 North
Gilbertsville, KY 42044
(270) 362 - 863


Gateway to the Lakes Realty INC
752 N. Tanyard Road
Cadiz, KY 42211
(270) 522 9105


Re/Max Cornerstone Real Estate
1011 Locust Street
Paris, TN 38242
(731) 642-7362


Campbell Realty
12th & Olive Streets
Murray, KY 42071
(270) 759-8780


Moon Bay Harbor Realty, LLC
60 Grandview Lane
Kuttawa, KY 42055
(270) 388-7389


Terry D. Paschall Real Estate
1234 Crawford Trail
Murray, KY 42071
(270) 767 - 922


MTG Real Estate
100 East 12th Street
Benton, KY 42025
(270) 527-1331


1st Realty Group - Glenda Ritchie
414 South 12th Street
Murray, KY 42071
(270) 753-1651


Grey's Properties
1300 Johnson Blvd
Murray, KY 42071
(270) 759-2001


Professional Associates Real Estate
70 US Hwy 68 West
Benton, KY 42025
(270) 252-1111


Two Rivers Realty
60 Main Street
Big Sandy, TN 38221
(731) 593-3700


Golden Realty
14862 US Highway 68 East
Hardin, KY 42048
(270) 354-8880


Century 21 - Lake Barkley Realty
263 Main Street
Cadiz, KY 42211
(270) 522-3363


Lakeland Realty Donna Clark Group
52 Jefferson Street
Cadiz, KY 42211
(270) 522-9333


Keith Arnold Realty & Auction
40 East Main Street
Camden, TN 38320
(731) 584-2100


Bill Collier Realty & Auction Company
198 S Clydeton Road
Waverly, TN 37185
(931) 296-2766


Century 21 Land Of Lakes
490 U S Highway 62 East
Eddyville, KY 42038
(270) 388-9199


Coleman Real Estate and Property Management
108 North 12th Street
Murray, KY 42071
(270) 753-9898


Lake Realty & Development Co.
141 Payne St.
Grand Rivers, KY 42045
(270) 362-4219


Rushton & Co. Real Estate
101 West Main Street
Waverly, TN 37185
(931) 296-3507


Arrowhead Land Lease Community
100 Broken Arrow Road
Paris, TN 38242
(731) 641-0025


Lake Associates Realtors
6471 East Antioch
Buchanan, TN 38222
(731) 642-1399


KY Homes Realty - Eddyville
246 Outlet Ave.
Eddyville, KY 42038
(270) 388-9811


Patriot Realty USA, LLC
60 Fox Street
Big Sandy, TN 38221
(731) 593-3540


Re/Max Real Estate Services / Lake Barkley
5176 State Route 93 South
Eddyville, KY 42038
1-800-938-9398


Shayne Holland
156 West Main Street
Camden, TN 38320
(731) 213-3131


Re/Max DreamWorld Properties
1706 J.H. O'Bryan Ave.
Grand Rivers, KY 42045
1-877-376-9753


Collier Appraisal & Associates
111 West Main Street
Waverly, TN 37185
(931) 296-9441


Bear Development, Inc.
30 Big Bear Resort Road
Benton, KY 42025
(270) 354-6436


Keller Williams Experience Realty
118 South 5th Street Suite B
Murray, KY 42071
(270) 753-1492


Coldwell Banker Service 1st Realty- Cadiz
110 Merchant Street
Cadiz, KY 42211
(270) 522-4699


Bass Realty Co.
104 Tyson Avenue
Paris, TN 38242
(731) 642-9612


Spotlight Properties
333 Highway 79
Dover, TN 37058
(931) 232-7222


Two Rivers Realty
714 Donelson Pkwy
Dover, TN 37058
(931) 232-4100


Moody Realty Company, Inc.
414 Tyson Avenue
Paris, TN 38242
(731) 642-5093


Lake Realty
141 Payne Street
Grand Rivers, KY 42045
(270) 362-4219


Re/Max Real Estate Associates
86 Commerce Boulevard
Benton, KY 42025
(270) 527-8035