About Patti's 1880's Settlement
Where people can enjoy a nice meal, stroll through the town, and do a bit of shopping in the antique stores.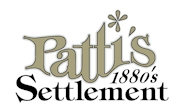 1793 J.H. O'Bryan Ave.
Grand Rivers, KY 42045
Other Inquiries: (270) 362-8844
GPS Coordinates: ,

Patti's 1880's Settlement Amenities
2" Pork Chops
Gardens
Unique Shopping
Home Decor
Clothing
Mini Golf
Live Animals
Old Time Photos
Gifts
Good Times!
Patti's 1880's Settlement Location