Rich Bay's Fishing Report
White/Yellow Bass Bite Great When Current Present
Report for August 10, 2020
From the deck of the Kick'n Bass pontoon
We have been fishing exclusively for white and yellow bass since our last report. Some days better than others but when the TVA pulls water thru the dam the bite is great. When they pull very little the bite is slower. We just keep moving and watching our Lowrance HDS 12 for schools of fish on the ledges and wham…there they are. We just need to keep moving to find active fish!
Lake Conditions
The TVA has the water level staying at about 357.8 elevation for the time being. Always follow your channel map on your depth finder. Always proceed with caution. The water level is the around the norm for this time of year.
Crappies
We have not been fishing for crappies in a while because they are scattered and the bite has been slow. Near the end of August is when we gear up to pull Jenko crankbaits for crappies and whatever else is taking our baits.
Whitebass and Yellowbass
White bass have been schooling up on the main lake. These are my favorite fish to catch because of their fight. Their little cousins the yellow bass are right in there for fight and taste. Use your graph to scan for the schools and then toss a SteelShad bladebait or a Ken's TBC spinner and let both sink to the bottom.
Yo-yo both baits back to the boat but hang on because they will either hit on the pull up or hit it on the way back down. Both baits have a flutter action on the fall which imitates a dying shad. Lately pulling your bait up as high as you can and hesitating a second there has been getting bit a lot. Just reel hard and fast to get a hook set from above your head.
Catfish
We have caught catfish while fishing for whitebass on the ledges. Bluecats, flatheads and channels all up to about 8 pounds max are a great fight and great table fare. We have also caught many drum AND buffaloes. Great fight but slimy when you get them in the boat. I smell great when we catch these monsters!!
Largemouth and smallmouth
We have caught mostly smaller largemouth lately. None over 14-½ inches long.
Bluegill and Red Ear
We have caught a few while fishing deep who must think they are tougher than they are. Out hanging with the big boys.
ATTABOY: Captain Rich had everything ready for us and knew the best spots for the current conditions. We caught a ton of fish and he even cleaned them all for us. Booking was easy and he was very responsive to my questions. I highly recommend him! We will be back! —Kelly Koester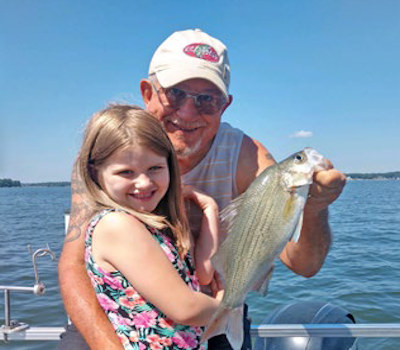 Captain Rich and his granddaughter.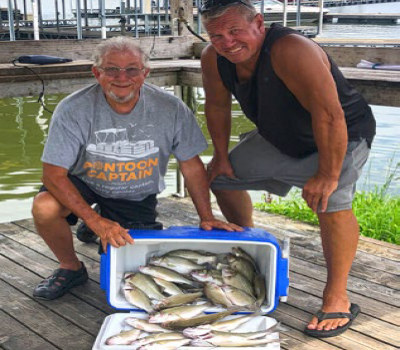 Rich and "field reporter" Steve.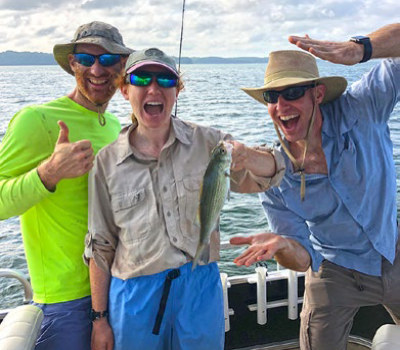 Guys just having fun.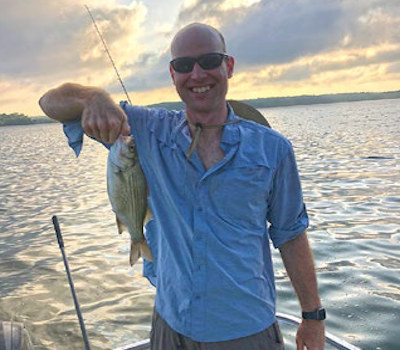 Nice catch!
---
---
Report Information & Archives
Rich Bay's reports cover Kentucky Lake and Lake Barkley north of the US 68 bridges.
You can access Rich Bay's previous fishing reports in our Fishing Report Archives.
About Rich Bay
Rich Bay, owner of Kick'n Bass Guide Service, specializes in fishing for all species of fish on Kentucky Lake and Lake Barkley.
Captain Richard Bay
Kick'n Bass Guide Service
(270) 205-7603
Website - Email