Doug Wynn's Fishing Report
Quality Over Quantity Has Been the Story Regarding Crappie
Report for March 30, 2023
Hello from the Excel Storm Cat. I finally got my guide trips going after multiple reschedulings due to weather and wind. Kentucky and Barkley Lakes are no place to be in winds above the mid-teens, even lower in many cases, depending on your destination or preferred fishing spot.
I'll just come out and admit, fishing for numbers has been tough these recent trips. Fishing for quality has been great. I'm trying to keep the tens of thousands of dollars' worth of electronics on my boat functional.
I just installed a new Garmin LVS-34 transducer and now have a software issue. It makes an old guy like me want to pull what little hair I have remaining out. Several friends and acquaintances are doing much better using live sonar. I plan on taking my only day off for the next couple of weeks to work the bugs out.
There have been days that the muddy water from the five inches of rain we got last week, the trash from all the water, and the wind have severely limited where and how we could fish. That said, my clients have been great to bear with me and have been grateful for the fish we have taken.
Yesterday afternoon in protected bays we saw some 63-degree surface temperatures. The water temps are struggling to get into the low 60s and stay there. The recent cold nights seem to take away any momentum that the sun warmed water of the day before made.
Last week's 20-something nights dropped the surface temperatures 10 degrees so there is ground to be made up before we see an earnest move to shallow waters for spawning.
Starting April 1st, we will see the start of a gradual lake level rise toward summer pool.
One thing that has bailed out my trips so far has been the quality of some of our crappie. Three trips in a row we have caught at least one over 16 inches, well over 2 pounds.
Those catches happened to be the personal best crappie for each lucky fisherman. Each of those crappie came on a different bait, different tactic, and different water depth.
I just talked to a friend who guides on Kentucky Lake also. He is finding his best catches late in the afternoon after maximum surface warming. He is also finding many of his fish in shallow areas (3-8 feet) he has fished earlier in the day with no luck.
He mentioned his (and my own) frustration at seeing so many crappie laying absolutely on the bottom that will not respond to any bait thrown at or trolled by them.
We are seeing the same thing around stake beds and brush. Inactive fish near the bottom that once they come up in the tops of cover will bite. This buddy's clients caught over 20 nice keepers in the span of an hour in water that had been covered earlier with no bites.
Upcoming storms will play havoc with fishing for the next couple of days but hopefully we have seen the end of the nights in the 30s and the beginning of a warm-up that will take us thru early spring and into my favorite fishing month of the year, MAY!
I have very few April dates left but several in May and June.
On a personal note, my 52-year-old son-in-law suffered a minor stroke recently. I'm so thankful for the nurses and doctors at Marshall County Hospital and Vanderbilt Medical Center for their quick response. I believe they saved his life. Please keep him in your prayers as he begins his recovery.
Be careful out there. Wear your PFDs. Watch out for other boaters and help those who might need help. Welcome to our slice of Heaven.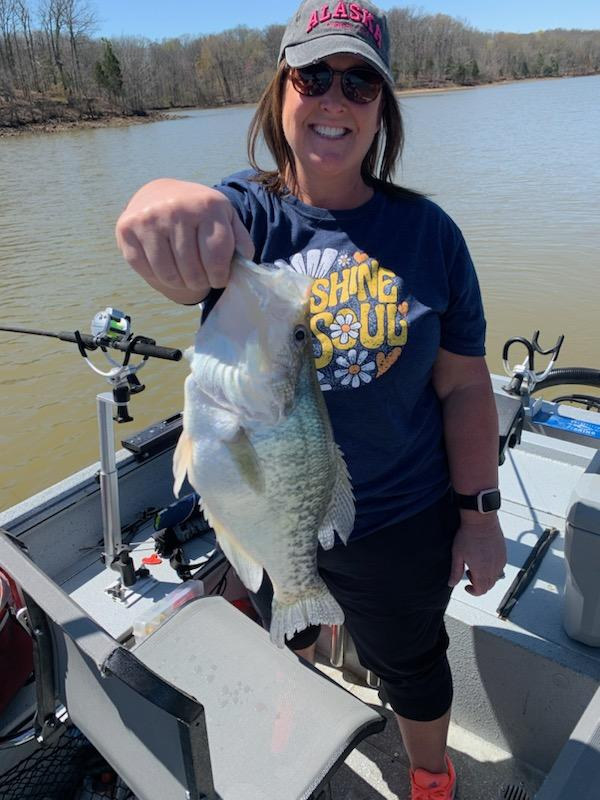 Photo courtesy Doug Wynn.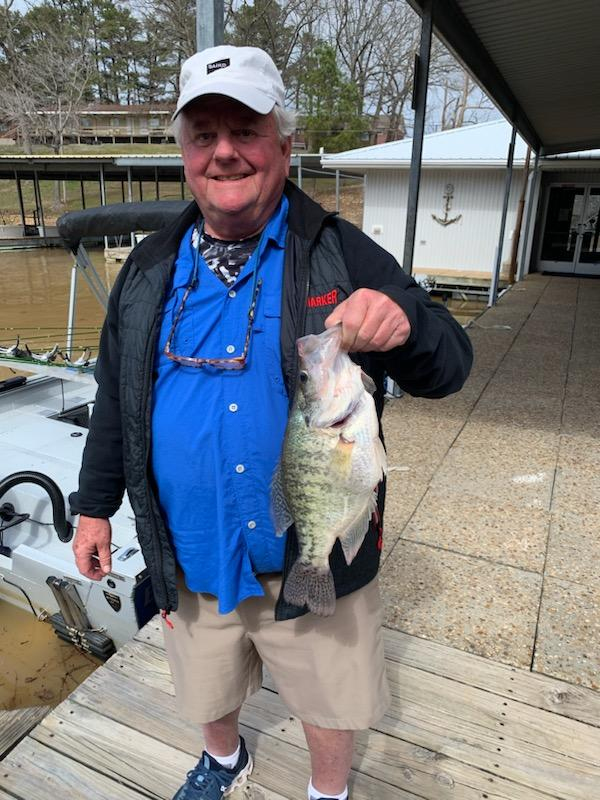 Photo courtesy Doug Wynn.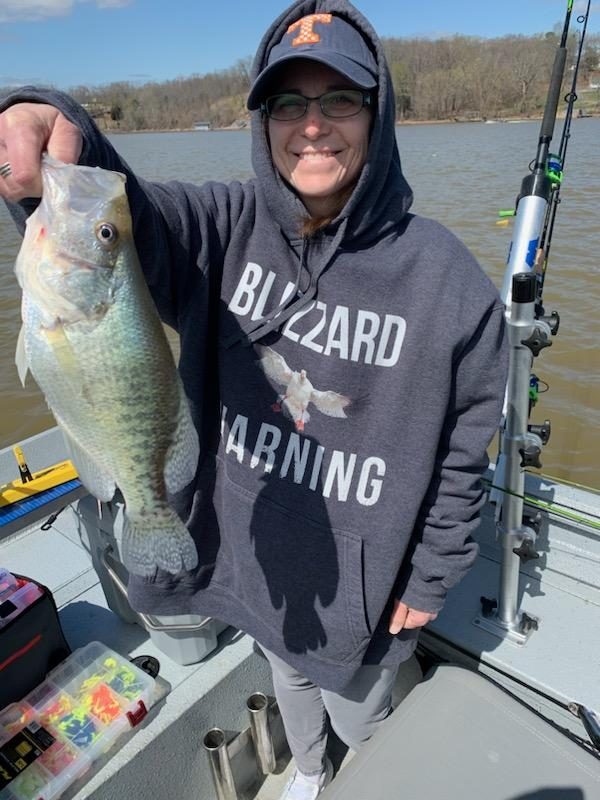 Photo courtesy Doug Wynn.
---
---
Report Information & Archives
Doug's reports cover Kentucky Lake from Kentucky Dam to Paris Landing and Lake Barkley north of US 68.
You can access Doug's previous fishing reports in our Fishing Report Archives.
About Doug Wynn
Doug Wynn is a professional guide on Kentucky Lake and Lake Barkley. He specializes in crappie fishing on both lakes. Doug also owns a taxidermy shop in Benton, Ky.
Doug Wynn
Crappie Gills n' More
(270) 703-7600
Website - Email