Doug Wynn's Fishing Report
New Excel Storm Cat 230 Provides Comfortable Experience While Fishing
Report for August 18, 2020
Hey Y'all from the new Excel Storm Cat 230 "Fishful Thinking".
I appreciate all the e-mails and texts from folks checking on me over the last 6 weeks or so. The reports of my demise have been greatly exaggerated. I had surgery in late June then some serious complications and another health surprise thrown in for good measure.
I got on the lake much too quick after the surgery and that was something I should have been more concerned about. I am hopefully on the road to mend.
The long wait for the Storm Cat is over! Covid delayed every aspect of the build with many suppliers still not up to speed. Patience has never been one of my fine points and Vicki was about to move me out with the dog.
I finally took delivery at Mountain View, Arkansas a couple of weeks ago. We promptly rigged it with equipment off the Bay Pro 230 then my Ulterra trolling motor gave up the ghost. Two days before we were scheduled to leave for our annual trip to Grenada and Enid Lakes, Mississippi and parts delivery for warranty repairs were out of the question.
I am now sporting a new, black Ulterra Terrova trolling motor. Vicki is still looking at that spare dog house in the back yard.
The trip to Mississippi was glorious even though I wasn't feeling well at all. The Storm Cat allows me to sit much of the time when we are trolling, and I couldn't be happier with the way we have it set up. We fished 3, 4, and 5 out of it on different days and it is very comfortable.
The fishing was great but the area we chose to fish was crowded at times. We were pulling Off Shore planer boards with Pico crankbaits and our catches were far and above what the other boats around us were.
One fisherman in a boat from Alabama came close and said "We've got to get rid of you Kentucky boys so we can catch a fish". We then promptly got crowded out of our chosen area but moved out into 30-40 feet of water and kept right on catching huge crappie. I hope there is a Grenada Lake in Heaven when I get there!
I haven't been on the lake in a couple of weeks and my sources have been doing other things besides fishing. I think we are in the dog-days lull that we experience most every year right before Labor Day.
The lake is being drawn down to winter pool levels, the surface temperature is like bath water, and we all try to catch up on the honey-dos that we have put aside all summer. Let's get Labor Day out of the way, the kids back to a somewhat version of school, and hope the coming cool snap is going to be around for a while.
With the late summer draw-down comes the reappearance of those Gremlins that have lurked right under the surface all summer. I can't stress how important being observant is for now till spring. With prices going down all the time on many good but basic GPS map equipped fish finders, there is no reason to not have one on every boat and have the operators learn how to use them.
The price of the electronics is cheap compared to serious boat damage or personal injury from striking an underwater obstacle.
Let's be careful out there. Be considerate of other boaters and help those who might need help. Wear those PFDs! Welcome to our beautiful slice of Heaven!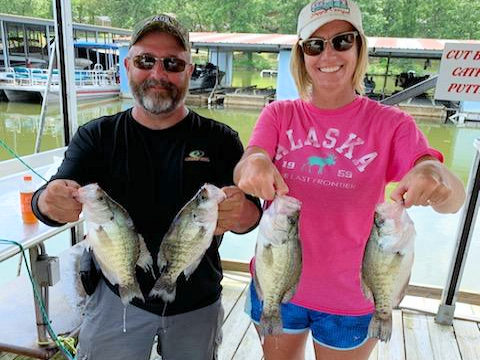 Photo provided by Doug Wynn.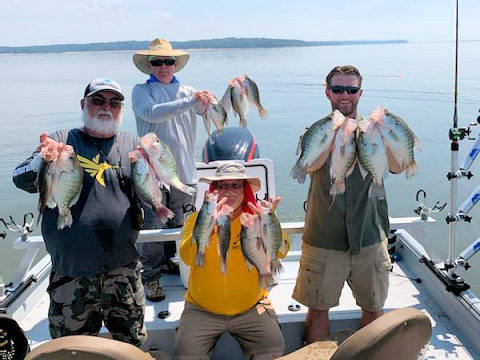 Photo provided by Doug Wynn.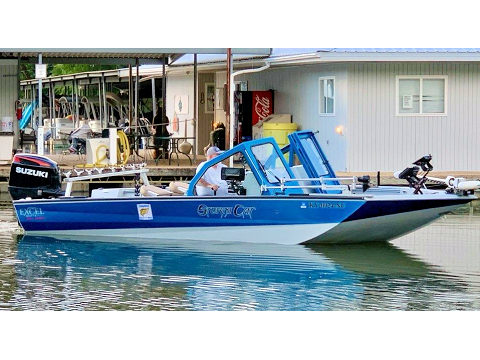 Photo provided by Doug Wynn.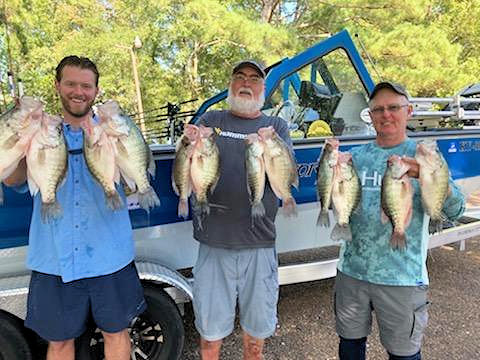 Photo provided by Doug Wynn.
---
---
Report Information & Archives
Doug's reports cover Kentucky Lake from Kentucky Dam to Paris Landing and Lake Barkley north of US 68.
You can access Doug's previous fishing reports in our Fishing Report Archives.
About Doug Wynn
Doug Wynn is a professional guide on Kentucky Lake and Lake Barkley. He specializes in crappie fishing on both lakes. Doug also owns a taxidermy shop in Benton, Ky.
Doug Wynn
Crappie Gills n' More
(270) 703-7600
Website - Email