Doug Wynn's Fishing Report
Trying Different Tactics Will Help Find The Crappie
Report for March 24, 2020
Hey Y'all from the Excel Bay Pro 230 "Fishful Thinking".  How our lives have suddenly turned upside down. Fishing seems to have become so much less important. My prayers go out to all the medical professionals who are putting in so many hours and those who are directly affected by the virus.
With all the turmoil, the fish keep on doing what fish want to do. The water conditions are improving even though we still have a lot of current.
I was out earlier this week and got to see first-hand the water conditions on both sides of Kentucky Lake on the north end. Bays on the LBL side are reasonably clear while bays on the west side are stained to muddy. The mid-week rain is going to really muddy up things on the west side. West side bay surface temps were around 57 while LBL side bays were around 54 degrees.
Reports of catches are everywhere from bad to good, deep to shallow, sunrise to sunset. The virus concerns are keeping boat traffic lower than normal and many places fishermen would normally frequent like restaurants and resorts are either closed or running at very different schedules. Carry-out is the rule at most eating places that are normally eat-in. It would be a good idea to check with each business as to what their situation will be since things seem to be in constant flux.
For those who do brave out between bouts of rain and wind, your choices are many on tactics. Most fishermen are spider-rigging or vertical jigging. The best place to start looking would be in the mouths of coves or bays around structure in 15 or so feet of water. Minnow rigs and jigs with plastics are what are tied onto most lines.
As the day moves toward afternoon, it might be a good idea to work toward shallower areas with structure. One thing most fishermen are finding is this: it's taking eliminating a lot of structure to find that one piece of structure that seems to be holding every fish in the bay. When you do find that one spot, it's game on!
The female crappie are now laden down with eggs and should start to spawn in the next couple of weeks if we have some sunshine and the surface temps get into the low 60s. The black crappie will begin their spawn first and will be found around rocky areas and chunk rock banks, especially areas near cover. White crappie are more inclined to be found spawning in the backs of bays with sandy bottom.
I love to troll, as those of you who are regular readers know. I got my longline trolling gear loaded up and tried my best to put together a pattern in the short time I was out. As is often the case, the crappie had other ideas. I did catch enough to stink up a small skillet and one nice female white crappie who just couldn't resist a new bait for me, the Spinnie Minnie. It's a 1/10th ounce lure similar in appearance to a Little George.
Many of you old-timers will remember the Tom Mann's Little George tail-spinner from years back. Ed Duke of Southern Crappie Rods markets the Spinnie Minnie and features it in a recent video that can be seen on Crappie-gills-n-more Facebook page. Ed and I have never met but we have spent hours on the phone, and I consider him to be absolutely the nicest person in the fishing tackle industry. In my opinion, he also sells the best rods in the business. Check them out on southerncrappierods.com.
If this virus scare calms down, we will be seeing a huge increase in lake traffic from all those who have been cooped up all winter with the terrible rain, currents, and bad lake and fishing conditions.
The Kentucky Lake level is around 355' but will surely rise sharply with heavy rains south of us. Be mindful of gremlins both floating and just under the surface along shallow areas. Carry extra dry clothing and wear your PFD. So many of our first responders are tied up with other things these days and you don't want to be that person who didn't bring the proper safety gear or check out your boat before you got out on the water.
Be careful out there, have a good time, leave the alcohol on the bank for later, and welcome to our slice of Heaven!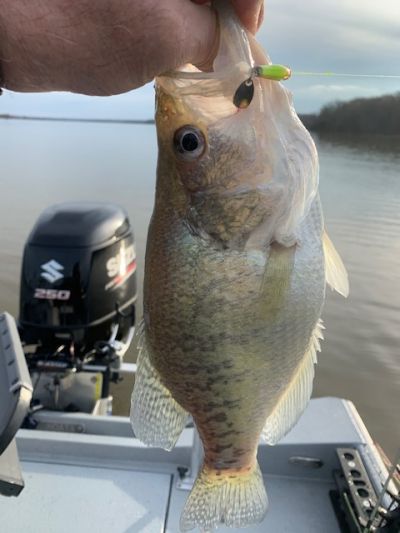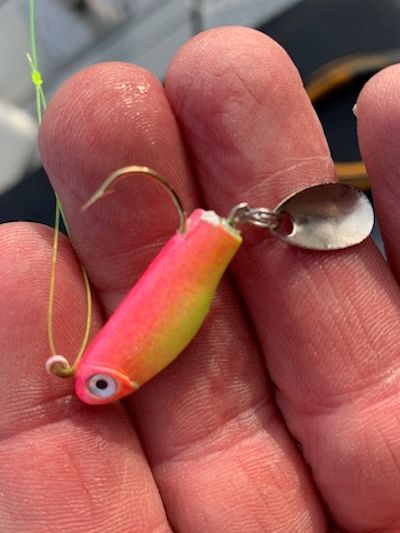 ---
---
Report Information & Archives
Doug's reports cover Kentucky Lake from Kentucky Dam to Paris Landing and Lake Barkley north of US 68.
You can access Doug's previous fishing reports in our Fishing Report Archives.
About Doug Wynn
Doug Wynn is a professional guide on Kentucky Lake and Lake Barkley. He specializes in crappie fishing on both lakes. Doug also owns a taxidermy shop in Benton, Ky.
Doug Wynn
Crappie Gills n' More
(270) 703-7600
Website - Email