Doug Wynn's Fishing Report
Electronics Review & Crappie Update
Report for December 12, 2020
Hey Y'all from the Excel Storm Cat "Fishful Thinking". The recent weather has gotten the blood flowing for a lot of fishermen on the nice days. The ramps are a collection of bass boats and crappie seeker boats.
Kentucky Fish and Wildlife has announced limited access to several bays on KY Lake for the near future. They are setting up areas for the experimental netting tactics. Areas of the bottom 300 feet x 500 feet will be cleared of all bottom structure.
The bays are Smith, Pisgah, Sledd, Ledbetter and Vickers. The areas will be marked with buoys and the bays will be blocked off at the mouths when netting is occurring. Maps of the areas affected, and other important information is on KY Fish and Wildlife's web page or on Western Kentucky Fisheries Facebook page.
I have had several fishermen call or text me who were very upset that they might lose a favorite brushpile or stakebed. I too will lose some waypoints but after talking to Adam Martin of KY Fish and Wildlife, I was assured there would be an effort to drag any cover out of these areas and leave it on the bottom nearby in the same bay.
Considering the vast amounts of water we have to fish and the fact the Asian carp have hurt our fishing on both lakes, I think it's a small price to pay in the big picture. You might just have a new favorite piece of structure and waypoint come spring.
I have taken a few nice days to get out and run my Storm Cat and get a few hours on the new Suzuki 250SS. I am also trying to learn my Garmin Livescope and Humminbird Mega 360. With all my health issues this year, Covid, and other assorted reasons, I haven't been able to concentrate on how to make them work for me.
Let me say first: The Mega 360 is going to be a game changer when I'm trolling longline or crankbaits. It will allow me to see structure and schools of bait and crappie while moving 3mph or faster. My normal speeds are much less than that. Right now, I'm using it in conjunction with the Livescope to find and stay on structure.
On the Livescope: I'm in awe of the guys who have it figured out. I quickly learned that boat control is first and foremost. I use a MinnKota Ulterra electric steer motor and I'm trying to learn how to operate it with the foot pedal. I've used cable steer trolling motors since the 70s, but the electric steer is a different animal when making small movements with the electric foot pedal.
Let me say this about Livescope: It's not the be all/end all like some would believe. It can be very humbling when that stakebed full of big crappie come and sniff your bait then move off. Some days throwing every size and color bait you have in the boat does not seem to work.
Other times that familiar THUMP greets the bait on the first drop. I was lucky enough to catch a fat 16-inch white crappie a couple of weeks ago. After showing her the Storm Cat roomy livewell, she was released, but not before my version of a selfie was taken.
There have been some memorable stringers of big crappie caught by vertical jigging and even spider rigging but more days than not, the crappie have been tough to fool. I don't have any reports from the bass guys because they play their cards close to their vests.
With wintertime fishing come the hazards of cold water and fewer other fishermen to help should one find themselves in a bad situation. I find myself more inclined to keep my inflatable PFD on all the time I'm on the water. I also keep extra clothes in the boat and in the truck. A dunking now will be a breathtaking event and the extra clothes could be a lifesaver when one finds themselves wet.
Be mindful of the gremlins out there. The underwater hazards are much closer to the surface and the temptation to run from here to over there might be an expensive decision. Boat repair labor rates are in 3 digits at some places and just being without one's boat when fishing is good could be punishment enough. Get a GPS unit or ask Santa for one.
Don't forget the detailed map card that goes with it.
Speaking of Santa, most fishermen would rather have a gift card than you taking a chance to get that tackle or baits correct. Time spent on tackle company or big box sporting goods web pages is a good way to pass time on those bad weather days.
Crappie-Gills-N-More is offering gift cards that can be used any time next year. You could buy the entire trip or the deposit for a trip. Maybe your fishing gift person wants to learn a new technique or a new part of either lake.
I want to wish each one of you a very Merry Christmas and a Happy New Year. Covid has made all things much different and we will have to find ways to make the best of it and hope spring brings a close to a bad dream.
Be careful out there! Wear that PFD.
Welcome to our slice of Heaven!!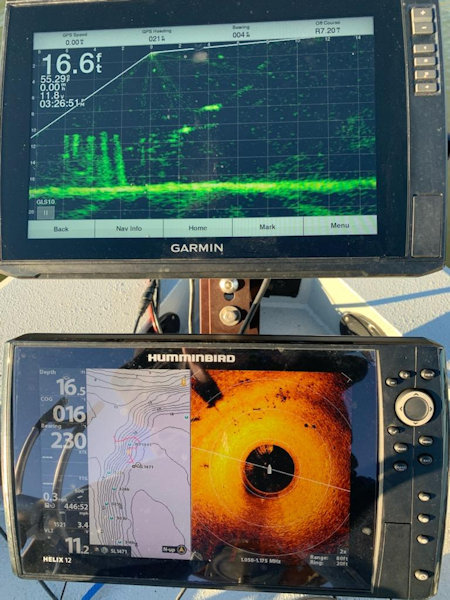 Photo courtesy Doug Wynn
Photo courtesy Doug Wynn
---
---
Report Information & Archives
Doug's reports cover Kentucky Lake from Kentucky Dam to Paris Landing and Lake Barkley north of US 68.
You can access Doug's previous fishing reports in our Fishing Report Archives.
About Doug Wynn
Doug Wynn is a professional guide on Kentucky Lake and Lake Barkley. He specializes in crappie fishing on both lakes. Doug also owns a taxidermy shop in Benton, Ky.
Doug Wynn
Crappie Gills n' More
(270) 703-7600
Website - Email