Doug Wynn's Fishing Report
Many Crappie Heading Deeper; Catfish Picking Up
Report for May 24, 2020
Hey Y'all! Last call from the Excel Bay Pro 230 "Fishful Thinking".
No, I'm not going anywhere, the Bay Pro is headed back to Excel and Vicki and I are going to be the proud new owners of the Excel Storm Cat 230 "Fishful Thinking III".
Time flies when you are having fun. It was one short year ago I finally got the Suzuki 250 out of backorder and the boat on the lake. The Bay Pro will be available thru Excel national sales. It has been one great boat and my clients love it.
The Storm Cat will offer me the chance to do what I love, trolling for slab crappie, but from a sitting position. I've found after years in a Bay style boat, standing 6-8 hours a day gets tiring on an aging back and replaced knees. I'll pick it up next week and will take a week off the lake guiding clients to get it rigged to my liking and some hours on the Suzuki 250SS engine.
We are finally getting some seasonable weather and the crappie have responded. The ledge crankbait bite has really turned on the past few days with some impressive catches of impressive crappie. I'm also finding some big crappie suspended over deep channels as they transition from spawning mode to lets-eat mode.
Many of the slabs are totally inhaling the cranks. I don't want that to happen when we are fishing a tournament but when the fish are going on ice for the table, it's a sure way to keep a good fish hooked and to the boat. Pico INT cranks in Simply Awsum, Mudbug, Zombie, and Green Machine have all be producing equally well. Several retailers around the lakes are now stocking the Picos.
There are still some straggler crappie being caught in 8-12 feet of water by spider rigging minnows and jigs. The bite has mostly been subtle while others are rip-the rod-out-of-the-boat types. It seems the spawn is winding down and the deeper bite is starting up. The calendar says almost June, but our fishing conditions say a month late. It has been a weird spring. Let's hope things settle into a normal pattern soon.
Bluegills and redears are firing up with great catches in some places and vacant beds in others. Last Monday I spent over three hours staring at the Side Image screen on my Helix 12 Mega unit. Lots of beds were seen but none were loaded up like I expected. If I had checked a few other bays, I would have found what I sought.
Again, this is not a usual pattern or lake condition. Fish jigs with wax worms on drop shot rigs to locate the bedding bull gills then break out the bobbers and crickets for the kids. Please keep in mind that redears are extremely spooky and will not tolerate noise of boats or a bobber landing on their heads. They require a stealthy approach and long casts. Redears are more apt to be caught on a piece of nightcrawler fished slowly on bottom.
I mentioned earlier about the resurgence of the sauger on Kentucky Lake. We are catching several in the 10 to 12-inch range every trip. Please remember the sauger must be 14 inches or over to be legal to keep. Watch out for teeth but especially that razor-sharp gill plate when unhooking a sauger.
Releasing short fish will assure this valuable resource will be around for the future. Many folks have never caught one and don't even know what they are when one is reeled in. By the way, there is no better table fare in our lakes.
Catfish are headed for the rocks to spawn. Any area with rip-rap banks or chunk rock would be a great place to set up to catch a stringer full. Catfish even the score for the bank-bound angler against the boaters. Worms or stink baits will fit the bill.
While I'm at it, I get many requests for the chicken/jello catfish bait I featured a couple of years ago so I'll let you in on it again:
Cut boned chicken breasts into strips about 1/2 inch thick. Put the chicken strips into a gallon ziplock bag and add cherry jello, the old -fashioned kind, raspberry or strawberry will work. You can add a package of the old-fashioned Kool-Aid unsweetened drink mix, anything red, to the bag.
Add just enough water to be able to slurry up the dry ingredients. Garlic powder or even Anise oil can also be added. Some folks swear by a small squirt of WD-40 to add also. Mix it all up very well then place it in the refrigerator for a few days to let it all soak up together.
Once that is done, take smaller ziplock bags and place a number of the chicken strips into several bags. They can be frozen and thawed on the lake and what isn't used one day can be refrozen. A day or two in the sun might really bring out the flavors but your spouse isn't going to appreciate those in the family refrigerator. Those go in the junker fridge in the garage with the worms. Fish this bait near the bottom for catfish.
It's Memorial Day weekend. It is obvious many folks feel like birds out of a cage and are trying to spread their wings. The boat ramps are packed as are the marinas. I'm hoping the motels and resorts are also. We fished yesterday morning and left starting to feel like there was a huge bullseye painted on the boat.
Inconsiderate was the rule of the morning as boats zoomed by us rock-throwing close with zero regard for us fishing. It doesn't have to be like that folks! Everybody is glad to be out but you don't have to try to social distance with the occupants of other boats.
I just learned we have had our first drowning for the weekend on Barkley Lake. This is the sad reality of being on the lakes. Wear your life jackets!! I honestly think well less than 50% of the boaters and fishermen I see on the lakes have them on. They won't save your butt if they are locked in a storage compartment.
Be careful out there but have a good time. Leave the alcohol on the bank for later. Most folks ignore the fact it's against the law to have an open container of alcohol on a boat, just like in your car.
Welcome to our slice of Heaven!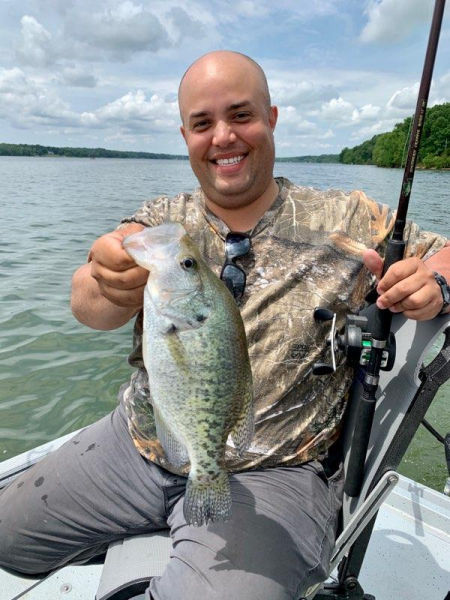 Photo courtesy Doug Wynn.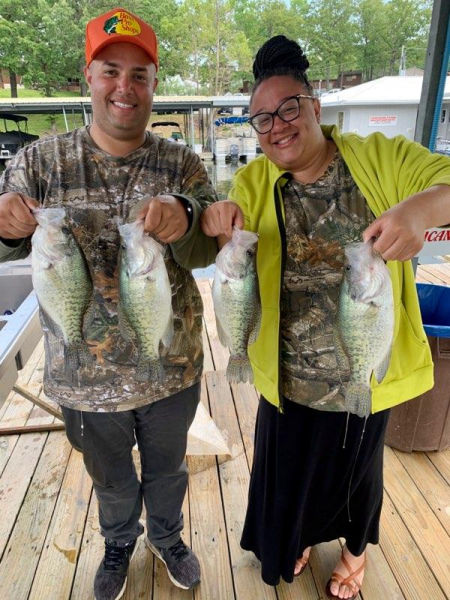 Photo courtesy Doug Wynn.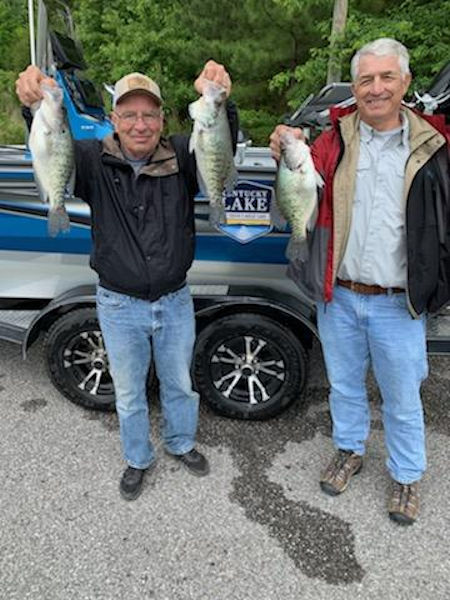 Photo courtesy Doug Wynn.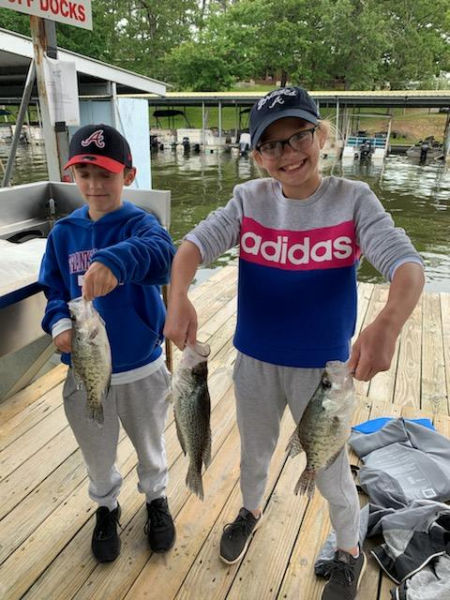 Photo courtesy Doug Wynn.
---
---
Report Information & Archives
Doug's reports cover Kentucky Lake from Kentucky Dam to Paris Landing and Lake Barkley north of US 68.
You can access Doug's previous fishing reports in our Fishing Report Archives.
About Doug Wynn
Doug Wynn is a professional guide on Kentucky Lake and Lake Barkley. He specializes in crappie fishing on both lakes. Doug also owns a taxidermy shop in Benton, Ky.
Doug Wynn
Crappie Gills n' More
(270) 703-7600
Website - Email