Brandon Hunter's Fishing Report
Dog Days of Summer
Report for July 13, 2023
Summer temps and humidity have set in for good. We have recently had some very nasty humid days and it makes those days on the water very uncomfortable.
A few hours in the morning and late in the afternoon and that's about all a guy would want. This is that time of year when the fishing starts getting tough for the most part.
A couple of things... one, the fish have been beat on all summer and two, those dog days have set in and it's making those fish want to move around.
This time of year, the fish will tend to find shade and/or start moving shallow. July and August, in my opinion, are the two toughest months on the calendar for bass fishing. Let's dive into the details.
Lake Conditions and What's Happening on the Lake
Water Temps: High 80s
Lake Level : 358.8 Just below summer pool and fall drawdown will start
Water Color : Clean
The fish are starting to slow down a good bit. They are on the move with lack of water and those dog days setting in.
Several fish are starting to make way to brush piles in that 10-15' range. A number of fish will start making way to the shallow flats along the main river with rock or stumps.
This happens when water temps start getting up there. Always remember, fish go shallow in the late summer months, not deeper. There are several fish up around shallow cover or docks as well. Look for the emerald shiner fry up around the docks and laydowns that are in the water.
If you can find a fresh lay down with some green on it, there will be fish on it because it's holding oxygen. It's getting to be that time of year with water temps and air temps rising, there will be some sort of topwater bite early in the morning around rock or shallow cover as well.
Techniques & Where
DropShot - There are still a few fish hanging around those deep holes off the main river, but for the most part they are starting to move up on shallow flats and deep brush. If you have enough brush marked, you can put together a decent day with alot of bites on a dropshot around brush piles in 12-15' of water.
Specifics - 6th Sense Glitch 3.8 Morning Dawn or Plum Dawn, 6" Roboworm Morning Dawn
Swimbaits - I have had more success the last couple weeks on a 5" Swimbait fished around bait balls, than I have all summer long. You can also get bites on shallow docks with a small swimbait.
Specifics - Ignite Frenzy 5" with ½ or ¾ oz heads, 6th Sense Fishing Divine Swimbaits in shad colors
SwimJigs - Fished around docks and shallow cover like lay downs.
Specifics - 6th Sense Divine Swimjig with Divine Swimbait on the back, Shad or white colors
Big Worm - Isolated structures offshore including brush piles and stumps
Specifics - TX RIg 5/16oz Weight with the 6th Sense Boosa Ringworm Plum or Blue Fleck
Frog or Buzzbait - Water willow grass or Docks
Specifics - 6th Sense Vega Frog, Accent Fishing Buzzbait Black or White
Blade Bait - This is a bait that you can tie on and throw it over open water or over the top of ledges. When the baitfish moves offshore, the fish will roam alot with lack of current and get up off the bottom. You can throw this bait and wind it, yo yo it, rip it, burn it, you name it. Throw it around schools of bait and you'll catch bass, whites, everything on it.
Specifics - 6th Sense Fishing Slice Blade Bait, Shad Hammer or White
For those of you who are not familiar with my service, I competed for eight years on the FLW Tour and continue to compete in the MLF Toyota Series Events. I am a full time, licensed and insured Captain, with first aid and CPR certification. I offer one-on-one training, technique-specific trips, fun bass fishing trips, and electronics training in your boat.
I would love the opportunity to share a day with you in my Caymas CX21 or in your own boat to get your electronics dialed in. I am here to help you and to help you become a better angler and to give you confidence in your equipment.
If you're in the area on the north end of Kentucky Lake, make sure to visit us at Hitec Outdoors. We are a full line boat dealership and marine electronics install center. We have lines from Caymas, Crestliner, Harris and Viaggio Pontoons. We also have a great selection of bait and tackle for your trip to the lake.
Come see us! Follow me on Facebook and Instagram @brandonhunterfishing and @bhunterfishing for anything fishing. Make sure you are following along and subscribe to my YouTube Channel BrandonHunterFishing. Please visit brandonhunterfishing.com and shoot me an email to book your next trip. See you on the water!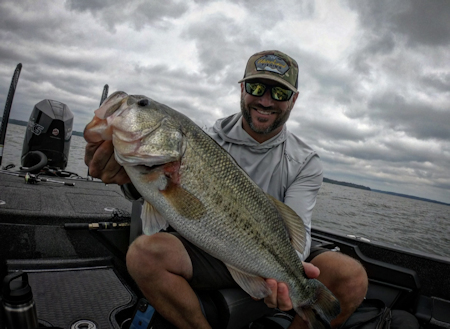 Photo courtesy Brandon Hunter
---
---
Report Information & Archives
Brandon's reports cover Kentucky Lake from Kentucky Dam to Paris Landing and Lake Barkley north of US 68.
You can access Brandon's previous fishing reports in our Fishing Report Archives.
About Brandon Hunter
Brandon Hunter is a professional tournament angler and guide for Kentucky Lake. He specializes in largemouth bass fishing.