Brandon Hunter's Fishing Report
The Bass Spawn and Staying Safe
Report for May 4, 2020
The 2020 Fishing Season has been interesting to say the least. When getting kicked off the first of March, the year started out with a bang. Fishing was great and everyone was excited to get the year started. Then Covid-19 hit us in the face and basically shut the country down for the last month.
I have been taking it easy for a few weeks and staying on the water a good bit. I'm ready to get back going, as I know everyone is. Moving forward, I will start back with my guide trips and electronics training this week, the first full week of May. We will still be extra cautious and follow guidelines that our governors have put in place. It's time to move on, but still be safe about it. See you on the water soon!
Lake Conditions and What's Happening on the Lake
Water Temps: 62-65
Lake Level: 358.90' and varies a lot this time of year
Water Color: Main river is slightly stained on both sides of the lakes, creeks are normal color, nothing too muddy.
Lake conditions overall the last few weeks have been great. TVA has been pulling a good amount of current for the last few weeks, due to heavy rains south and just managing the system. The good news for the spawn is we have had several weeks where the levels have been somewhat stable.
It's the first of May and fish are on the bank. A good number of fish have spawned, but I still believe the majority of the fish have not spawned yet. I look for another few good weeks of shallow water fishing. If you can catch that water at mid 359-360', that's money when it comes to flipping shallow cover in the spring on Kentucky and Barkley Lakes.
The normal jigs and soft plastic pitching baits are the best for this situation. When the water starts falling, fishing can get tough. Those fish will get out of that flooded cover as quick as they get in there, when it starts falling. Most of your fish will not leave, as they are up there for the spawn. They will simply reposition and this can be very tricky fishing conditions.
Water temps are warm enough that when this happens, a topwater bait can catch of few out in front of the shallow cover. Another great technique is the floating worm or the wacky rig stick baits. The shallow bite has been the most consistent, with the biggest factor being the fluctuating water levels.
There are still a good number of fish that have not moved in yet. These fill will hang around those channel banks, gravel points, and lead in banks. There is a time each year that those fish will disappear for a few days before showing up shallow and a good technique when this happens is the ned rig or the wobble head. Look for those transition banks and current breaks that hold those fish that haven't committed to the shallow water.
If you get those cloudy overcast days, there are still a good number of fish that are holding out around shallow cover. Keep in mind that there isn't a lot of cover in the water at 358.90'. It's pretty skinny water. The key is to find those trees and laydowns that have some water on them. A spinnerbait, chatterbait, or squarebill are great baits to fish around shallow cover if conditions line up.
Techniques and Where
Pitching and Flipping - This technique is a staple on these lakes and probably some of the most fun you will ever have if water levels line up. Look for water levels to hit 359.2 and head to shallow water bushes.
Specifics - 6th Sense Fishing Prawn or your choice of craw, Black and Blue or Watermelon Red have been the best colors
Floating Worm or Stick Baits - When fish are shallow in the spring I will always have on a pink or methiolate floating trick worm and a wacky rigged stick bait for fishing shallow cover for those finicky spawners
Specifics - 6th Sense Fishing Clout, Zoom Trick Worm Natural Colors or bright colors on the floating worm
Spinnerbait, Chatterbait -  Always a good choice in the spring months when fish are on the move. Fish around shallow cover such as rock, laydowns, stumps. If you get cloudy overcast conditions with some wind, these are your baits.
Specifics - Accent Spinnerbait 3/8 and ½ oz (Double Willow Chart White in stained water), Jackhammer ½ oz (Green Pumpkin, White)
Wobble Head - When those fish are in transition this time of year, a wobble head with a craw on it is a good way to cover water with a bottom bait. Throw it out, let it go to the bottom, and wind it like a crankbait super slow.
Specifics - 6th Sense Fishing Core X Wobble Head with a 6th Sense Fishing Stoker Craw or SpeedCraw on the back, Green Pumpkin with chart tips.
Ned Rig - The ned rig will get you a bite when nothing else will. Gravel points are the most consistent.
Specifics - Ned Head of your Choice, 6th Sense Fishing Ned Fry in Green Pumpkin
For those of you who are not familiar with my service, I competed for 8 years on the FLW Tour. I am a full time Licensed and Insured Captain with First Aid and CPR certification. I offer one-on-one training for all times of the year, fun bass fishing trips, and electronics lessons on the ins and outs of the new technology.
I would love the opportunity to share a day with you in my Ranger Z520L or in your own boat to get your electronics dialed in. I am here to help you and to help you become a better angler and to give you confidence in your equipment.
If you are in the area on the north end of Kentucky Lake, there are a couple businesses that I highly recommend you check out. Kentucky Lake Outdoors is fully stocked with anything you read in my reports and if they don't have it, they will get it for you.
Hi-Tec Outdoors is one of the premier shops for anything electronics. They are very knowledgeable on the latest technology, can do the install, and have a great tackle selection as well.  The guys at Jet-A-Marina in Calvert City are our local Ranger Boats dealer. These guys do a great job keeping us running throughout the year.
Follow me on Facebook and Instagram @brandonhunterfishing and @bhunterfishing for anything fishing. Make sure your following along and subscribe to my YouTube Channel BrandonHunterFishing. Please visit brandonhunterfishing.com and shoot me an email to book your next trip.  See you on the water!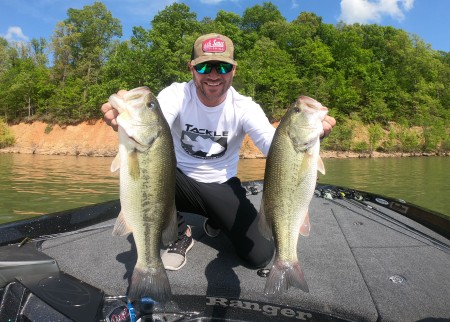 Brandon Hunter
---
---
Report Information & Archives
Brandon's reports cover Kentucky Lake from Kentucky Dam to Paris Landing and Lake Barkley north of US 68.
You can access Brandon's previous fishing reports in our Fishing Report Archives.
About Brandon Hunter
Brandon Hunter is a professional tournament angler and guide for Kentucky Lake. He specializes in largemouth bass fishing.