About Moors Resort and Marina
For generations, families and friends have gathered at Moors Resort and Marina to escape from their daily grind for a few days or to indulge in some fun-filled weekend adventures. Whether booking a lodge, cabin or cottage, Moors provides all of the comforts of home, complete with five-star customer service and other high-quality amenities that guests look forward to enjoying during their stay at the resort each year. The largest of the resorts located in Marshall County, Kentucky, Moors has something for everyone.
The Lodge
Those seeking to relax and not be bothered with the hassle of everyday chores will appreciate the services available to them in the Moors Resort Lodge. There's no need to cook or clean as Ralph's Harborview Bar & Grill is open seasonally and serves up a delightful array of meals to tempt your palate and the housekeeping staff keeps rooms tidy and clean.
Each room in the lodge includes two queen-size beds, a full bath, microwave oven, small refrigerator, coffee pot, hairdryer, cable television, DVD player and free Wi-Fi is available throughout the resort. Less cooking and cleaning means more time out fishing and boating out on the lake, and more time to take in a magnificent sunset with a front row view of the beautiful Buckhorn Bay.
Cottages
Cottages come in a variety of options, allowing guests a secluded getaway, as well as a chance to reconnect with nature and their travel mates. There are 37 cottages at the resort, available in one, two and three-bedroom four-plexes, duplexes and townhouses. Three and four-bedroom waterfront cottages are also available, as well as a four-bedroom log cabin.
Each cottage is equipped with cable TV, DVD player, refrigerator, stove, microwave, toaster, coffee maker, pots and pans, dishes and silverware, and a charcoal grill. Linens are also provided. Housekeeping services are not available to those staying in cottages.
Pet Policy
Pets are not allowed in the lodge, but are welcome in the cottages. Some fees apply.
Ralph's Harborview Bar & Grill
Ralph's Harborview Bar & Grill, located at Moors Resort and Marina, is open during the resort's regular season. The restaurants serves up a variety of delectable dishes for breakfast, lunch and dinner, as well as a wide selection of beer, wine, bourbon and cocktails. A complete menu can be viewed on the resort's website. Follow them on Facebook for a list of daily specials and events.
The Marina
With almost a mile of shoreline, guests can fish almost anywhere along those waters. For those seeking to explore more of Kentucky Lake, Moors also offers a full service marina where guests can rent boats and slips, and purchase fuel. They also sell bait and tackle, as well as a limited supply of packaged beer for guests' convenience. The marina closes for winter, typically from November through February. For a list of frequently asked questions, please visit the website.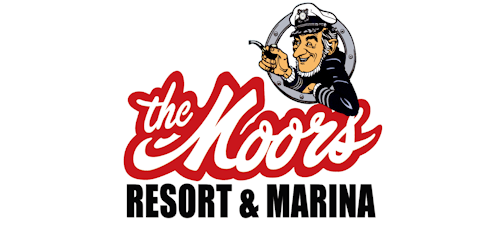 570 Moors Rd
Gilbertsville, KY 42044
Reservations: 1-800-626-5472
Other Inquiries: 270-362-8361
GPS Coordinates: 36.918916, -88.219437

Moors Resort and Marina Lodging Types
Resort, Cabins, Marina, Campground
Moors Resort and Marina Amenities
37 Cottages
Groups/Catering
24 Lodge Rooms
Golf Cart Rentals
Large Marina
Beach & Pool
Boat Rentals
Mini Golf
Restaurant
Playground
Moors Resort and Marina Location
Location marker may be approximate.