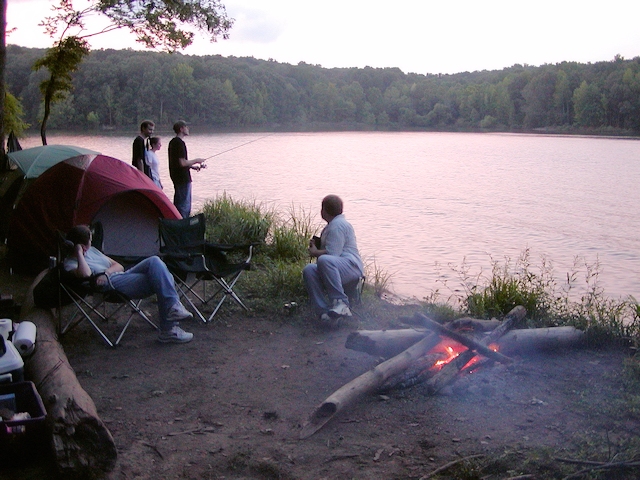 For those campers who still prefer to "rough it" without many of the amenities a developed campground offers, Land Between The Lakes offers year-round lakeside camping at its four Self-Service Campgrounds and 12 Designated Backcountry Camping Areas. These more primitive areas of LBL provide a peaceful and serene camping experience for their visitors.
Cravens Bay, Fenton, Turkey Bay, and Gatlin Point comprise the four Self-Service Campgrounds. They offer basic amenities, including campsites, picnic tables, grills, fire rings, chemical toilets, drinking water, trash pickup, lake access, and boat ramps.
The Cravens Bay Self-Service Campground, on Lake Barkley, contains 31 basic campsites, offers flush toilets and two boat ramps, and sells ice seasonally.
The 12 Backcountry Camping Areas are Birmingham Ferry, Boswell Landing, Demumbers Bay, Ginger Bay, Neville Bay, Nickell Branch, Pisgah Point, Redd Hollow, Smith Bay, Sugar Bay, Taylor Bay, and Twin Lakes. These areas offer boat ramps. For an even more secluded experience, though, LBL offers dispersed backcountry camping off most of its trails and legal roads. For information on any of these areas or on backcountry camping restrictions, visit www.lbl.org.
A nightly per-unit fee is required for Self-Service Campgrounds, and a Backcountry Camping Permit is required to camp in most of LBL, except for fee areas such as developed campgrounds. For more information about seasonal camping, call (270) 924-2000 or email LBLInfo@fs.fed.us.
Developed Campgrounds in LBL:
Don't Want To Sleep Under The Stars?
If backcountry camping isn't quite your thing, or you want to break up your stay where some nights you have a roof over your head, you can find great, affordable lodging in the Kentucky Lake area. Whether it's a cheap motel or a full-service resort, you can find that perfect place when planning your next vacation to Land Between The Lakes.
All Area Accommodations
Kentucky Lake Waterfront
Lake Barkley Waterfront
Note: ExploreKentuckyLake.com is not the official site of the Land Between The Lakes. You can access their official site here.