2017 Trigg County Ham Festival
Hammin' It Up in Cadiz, Kentucky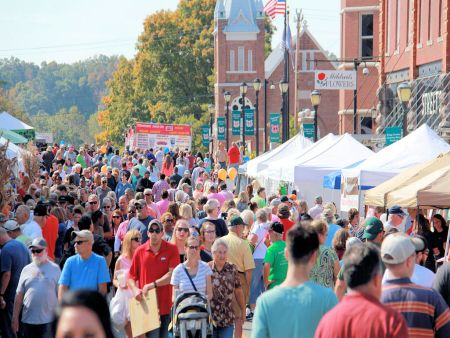 Visitors and residents of Cadiz, Kentucky, will begin taking in the glorious smells of smoked meats, freshly pressed paninis and indulge in fresh squeezed lemonade and hot cappuccinos. For 41 years, Trigg County has hosted the Ham Festival, an event that invites visitors to enjoy hometown traditions that include delicious fare, live music and a carnival of activity and events.
"This is a community event that started 40 years ago with an all-volunteer group used to showcase the country hams produced by our local agricultural community," Cadiz-Trigg County Tourism Executive Director Bill Stevens says.
"Here we are 40 years later, still with a volunteer group, producing a quality, award-winning festival, which will have over 50,000 visitors for the weekend. It has grown to include over 200 vendors, 4-H Youth Ham Producers and, of course, the farm cured country hams we want to recognize."
Ham Festival: October 9-14, 2017
The festival kicks off on Monday, October 9, 2017, with the annual Trigg County Country Ham Festival Breakfast held at the Cadiz Baptist Church Annex located on Main Street. Doors open at 6 a.m. and a program begins at 7 a.m. From there, festival attendees can take in the Trigg County Quilt Guild's Quilt Show on Wednesday, October 11, at the Janice Mason Art Museum from 10 a.m. to 4 p.m.
Then, on Thursday, October 12, things begin to pick up with 4-H and agricultural exhibits, country ham and homemaker contests hosted in downtown Cadiz. A carnival will be held at West Cadiz Park at 5 p.m. And that's just the beginning of what this quaint Kentucky town has to offer its guests.
Friday and Saturday, October 13 and 14, also promise to be days filled with fun for families and friends. Food vendors will be set up along the streets of downtown Cadiz from 10 a.m. to 9 p.m. as more live entertainment begins. You can enjoy quirky events like the All American Racing Pigs, as well as more laid back attractions, such as the petting zoo and pony rides.
Ham Festival wraps up on Sunday, October 15, with the petting zoo, pony rides and All American Racing Pigs operating from 10 a.m. to 6 p.m. Food booths and vendors will be open to the public from 11 a.m. to 5 p.m. and a carnival will be hosted from noon to 5 p.m. This last day of events will be hosted at West Cadiz Park.
Hamtastic Fun
Throughout the weekend festivities you can participate in "Hamtastic" drawings for prizes, as well as sample some of the best flavors of pork and other goodies found in this part of Western Kentucky. The community comes out in full force, donning the town with "pigs around town," a community-wide display of pigs painted and decorated in creative displays.
Former residents love to come home during Trigg County Ham Festival, and visitors to Land Between the Lakes and Kentucky Lake find the festival to be a welcome addition to their vacation.
Live Music
Every evening, you can enjoy live music on the WKDZ Renaissance Stage. Friday night's line up includes Hula Hooping Fire Dancing at 5:50 p.m. and the Regi Whooten Band at 6:10 p.m. Following the Country Ham Auction on Saturday will be featured musical guest Ray Scott at 4 p.m. and Exile at 6:30 p.m. Music is sponsored by the Cadiz-Trigg County Tourism Commission.
HHam Festival Fireworks
Fireworks conclude the festival and round out Saturday evening at 8:30 p.m. By the time you've enjoyed all of the day's activities and the various foods available during the event, you'll be happy to kick your feet up and enjoy a light show worth sticking around to see.
Schedule of Events
For more information and a complete schedule of the week's events, download this PDF.