What Do You Want To Eat?
... or Where Do You Want To Eat?
Upcoming Live Entertainment
Interactive Map of Restaurants
Want to see all your dining options at once? Look no further!
Gold Level Restaurants...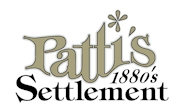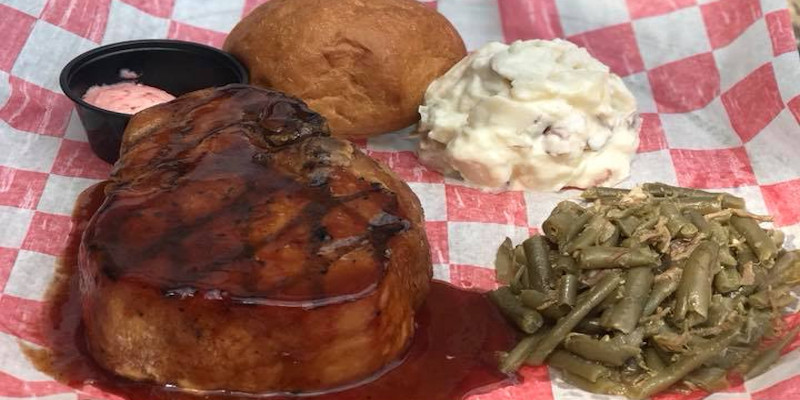 1 & 2" Smoked Chops
Burgers
BBQ Nachos

Ice Cream
Unique Shopping
Mini Golf
A fire in early 2018 may have taken the famous Patti's 1880's Settlement restaurants, but it hasn't taken away the beautiful gardens and the attractions, nor some of the delicious dishes Patti's is famous for! Enjoy the famous pork chop, hamburger and other appetizing selections at the temporary Hamburger Patti's located in downtown Grand Rivers. Visit Hamburger Patti's online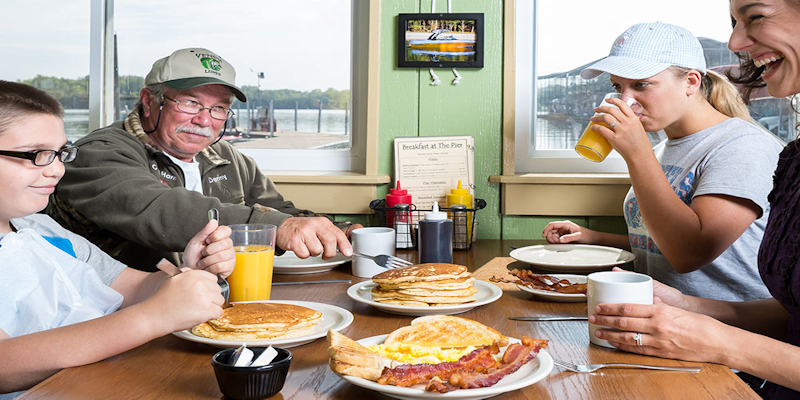 The Landing at Prizer Point Marina & Resort is casual dining in a floating restaurant on the waters of Lake Barkley. Serving breakfast, lunch, and dinner. Visit The Pier at Prizer Point online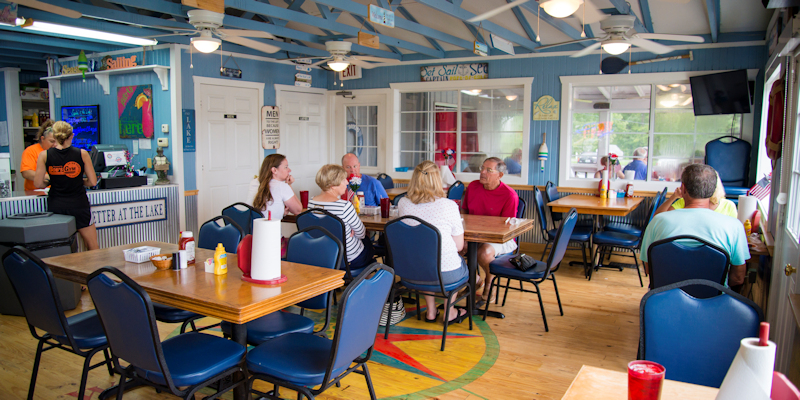 Breakfast
Omelets
Pancakes
Dockers "Breakfast on the Bay" features an all-breakfast menu with eggs Benedict delights, omelets, Belgian waffles, pancakes and much more. Hours are 7am to 1pm daily during the boating season and weekends during the off season. Visit Docker's Breakfast on the Bay online
Silver Level Restaurants...
The Dutch Kitchen at Lynnhurst Family Resort on Kentucky Lake offers "traditional Amish fare" breakfast on Saturday mornings from 7:00 a.m. to 10:00 a.m. Dinner specials are also available on Friday nights. Each weekday you can enjoy breakfast sandwiches, lunch sandwiches, specialty desserts and more. Visit The Dutch Kitchen at Lynnhurst online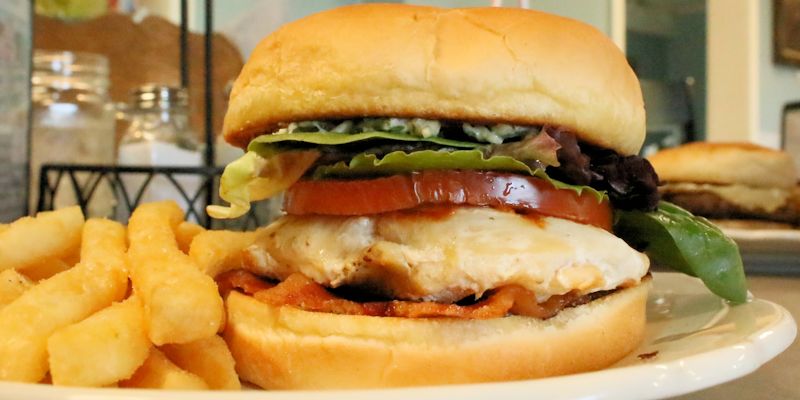 Bronze Level Restaurants...
Other Restaurants...
1120 Mineral Wells Avenue
Paris, TN 38242
(731) 644-0039


1055 Mineral Wells Ave
Paris, TN 38242
(731) 642-7778


923 Broadway
New Johnsonville, TN 37134
(931) 535-3553


506 N 12th St # E
Murray, KY 42071
(270) 761-8424


205 North 12th Street
Murray, KY 42071
No Phone


61 US Highway 68 East
Draffenville, KY 42025
(270) 527-9035


15 Hurricane Loop
Tennessee Ridge, TN 37178



1407 North 12th Street
Murray, KY 42071
(270) 759-1648


700 North 12th Street
Murray, KY 42071
(270) 753-9383


6527 TN-13
Erin, TN 37061
(931) 289-2151


861 Highway 79
Dover, TN 37058
(931) 232-2353


360 Main Street
Benton, KY 42025
(270) 527-1670


58 US Highway 68 East
Draffenville, KY 42025
(270) 527-2643


1303 Wood Street East
Paris, TN 38242
(731) 407-4072


216 North 15th Street
Murray, KY 42071
(270) 761-4827


1990 S Main St
Tennessee Ridge, TN 37178
(931) 721-4110


292 US Highway 68 East
Draffenville, KY 42025
(270) 527-2727


117 West Lake Street
Camden, TN 38230
(731) 584-4920


915 Mineral Wells Avenue
Paris, TN 38242
(731) 407-6030


104 North 15th Street
Murray, KY 42071
(270) 761-4335


22 Main St
Cadiz, KY 42211
(270) 206-7119


300 Main St
Benton, KY 42025
(270) 527-3444


3924 US Highway 62
Calvert City, KY 42029
(270) 395-2660


2165 Highway 140 North
Cottage Grove, TN 38224
(731) 782-3518


1505 Main Street
Benton, KY 42025
(270) 527-3484


24 Front Street
Big Sandy, TN 38221
(731) 593-3025


728 US Highway 62
Grand Rivers, KY 42045
(270) 362-8580


5925 East Main Street
Erin, TN 37061
(931) 289-3998


244 US Highway 68 E
Draffenville, KY 42025
(270) 527-4303


110 Hwy 641 S
Camden, TN 38320
(731) 584-4430


2323 US 62
Gilbertsville, KY 42044
(270) 909-3227


100 Beechwood Ln.
Benton, KY 42025
(270) 527-9471


1083 Canton Road
Cadiz, KY 42211
(270) 522-3888


150 Highway 641 North
Camden, TN 38230
(731) 584-5400


806 Chestnut Street
Murray, KY 42071
(270) 767-0054


136 Teal Run Circle
Gilbertsville, KY 42044
(270) 362-7306


1506 Donelson Pkwy
Dover, TN 37058
(931) 232-4449


305 South 12th Street
Murray, KY 42071
(270) 753-0000


816 North 12th Street
Murray, KY 42071
(270) 759-5551


1310 Main Street
Murray, KY 42071
(270) 753-7641


25 Commerce Blvd
Benton, KY 42025
(270) 527-2924


656 North 12th Street
Murray, KY 42071
(270) 753-6666


Kenlake State Resort Park
Aurora, KY 42048
(270) 474-2245


256 West Main Street
Camden, TN 38230
(731) 213-2494


1314 Donelson Pkwy
Dover, TN 37058
(931) 232-6500


117 South 12th Street
Murray, KY 42071
(270) 753-3030


65 Campbell Dr
Calvert City, KY 42029
(270) 395-0045


165 US Hwy 68 East Draffenville Pla
Draffenville, KY 42025
(270) 527-9300


300 Tyson Avenue
Paris, TN 38242
(731) 642-5263


14075 Highway 641 South
Holladay, TN 38341
(731) 584-3003


938 TN-49
Tennessee Ridge, TN 37178
(931) 721-2750


507 Rushing Way
Murray, KY 42071
(270) 761-5555


650 North 12th Street
Murray, KY 42071
(270) 762-0081


4200 State Park Road
Cadiz, KY 42211
(270) 924-6081


1005 Arcadia Circle
Murray, KY 42071
(270) 759-8866


1506 Lowe's Drive
Murray, KY 42071
(270) 767-0315


1780 Highway 70 West
Camden, TN 38230
(731) 584-1989


15060 Highway 641 South
Holladay, TN 38341
(731) 584-5163


13795 TN 69A
Big Sandy, TN 38221
(731) 593-0300


14244 U.S. 79
Buchanan, TN 38222
(731) 642-2246


101 Newman Drive
Eddyville, KY 42038
(270) 388-4328


312 West 5th Street
Benton, KY 42025
(270) 527-2137


6425 East Antioch Road
Buchanan, TN 38222
(731) 333-6119


804 Chestnut Street
Murray, KY 42071
(270) 753-6656


790 Buchanan Resort Road
Springville, TN 38256
(731) 642-8810


330 Main Street
Benton, KY 42025
(270) 527-1733


1415 Main Street
Murray, KY 42071
(270) 753-2202


201 North 12th Street
Murray, KY 42071
(270) 761-1818


112 North Market Street
Paris, TN 38242
(731) 641-1222


708 Complex Drive
Grand Rivers, KY 42025
(270) 928-2171


849 Volunteer Drive
Paris, TN 38242
(731) 641-2222


243 West Main Street
Camden, TN 38230
(731) 584-9777


6805 TN-13
Erin, TN 37061
(931) 289-5151


100 Broadbent Boulevard
Cadiz, KY 42211
(270) 522-5111


11755 Highway 69 South
Springville, TN 38256
(731) 593-5842


2046 J H O'Bryan Ave
Grand Rivers, KY 42045
(270) 557-8010


9505 Highway 641 North
Puryear, TN 38251
(731) 247-5527


North 12th Street
Murray, KY 42071
(270) 753-3246


110 South 12th Street
Murray, KY 42071
(270) 761-7366


1502 East Wood Street
Paris, TN 38242
(731) 644-1515


1100 Chestnut Street
Murray, KY 42071
(270) 753-9697


124 North 15th Street
Murray, KY 42071
(270) 759-3233


12th & Chestnut Streets
Murray, KY 42071
(270) 759-4646


1019 Mineral Wells Avenue
Paris, TN 38242
(731) 642-4499


63 Slickback Road
Benton, KY 42025
(270) 527-3099


601 Main Street
Benton, KY 42025
(270) 527-9424


314 Kennedy Ave
Calvert City, KY 42029
(270) 395-0371


6159 State Route 94 East
Murray, KY 42071
(270) 753-7711


1901 US Highway 641
Murray, KY 42071
(270) 767-0662


150 Union Ridge Rd
Aurora, KY 42048
(270) 493-1215


1201 Payne Street
Murray, KY 42071
(270) 761-4800


2021 Main Street
Cadiz, KY 42211
(270) 522-3418


610 Trade Ave
Eddyville, KY 42038
(270) 388-6133


217 South 12th Street
Murray, KY 42071
(270) 759-9885


706 N 12th St
Murray, KY 42071
(270) 761-7486


1060 Mineral Wells Avenue
Paris, TN 38242
(731) 642-3210


1203 Chestnut Street
Murray, KY 42071
(270) 753-0333


203 Tyson Avenue
Paris, TN 38242
(731) 644-3030


13444 US Highway 68 East
Aurora, KY 42048
(270) 354-6521


1016 Mineral Wells Avenue
Paris, TN 38242
(731) 644-2114


1111 Chestnut Street
Murray, KY 42071
(270) 759-4695


938 Tennessee 49
Tennessee Ridge, TN 37178
(931) 721-2750


307 Highway 641 North
Camden, TN 38230
(731) 584-5984


208 Broadway Ave
New Johnsonville, TN 37134
(931) 535-3417


267 Main Street
Cadiz, KY 42211
(270) 522-4658


1516 East Wood Street
Paris, TN 38242
(731) 644-0558


500 Eagle Nest Rd
Buchanan, TN 38222
(731) 644-2524


1351 Broadway Avenue
New Johnsonville, Tn 37134
(931) 535-2242


2982 Harvey Bowden Rd
Paris, TN 38242
(731) 644-9500


622 North 12th Street
Murray, KY 42071
(270) 753-SUBS


6121 E Antioch Rd
Springville, TN 38256
(731) 641-0100


130 Tate Drive
Buchanan, TN 38222
(731) 407-4926


1528 Donelson Pkwy
Dover, TN 37058
(931) 241-5890


1209 North 12th Street
Murray, KY 42071
(270) 761-3333


106 S 12th St,
Murray, KY 42071
(270) 767-1627


4264 Murray Highway
Hardin, KY 42048
(270) 437-4505


214 North 15th St.
Murray, KY 42071
(270) 761-4444


1709 Lake Barkley Drive
Kuttawa, KY 42055
(270) 388-9563


5923 E Main St
Erin, TN 37061
(931) 289-5518


136 Teal Run Cir
Benton, KY 42025
(270) 362-7306


3591 W Main St
Erin, TN 37061
(931) 289-5050


324 Main St, Cadiz
Cadiz, KY 42211
(270) 522-2249


82 US Highway 62 West
Eddyville, KY 42038
(270) 388-5347


15575 US-79
Buchanan, TN 38222
(731) 924-4114


397 Ash St
Benton, KY 42025
(270) 527-0992


1051 North 16th Street
Murray, KY 42071
(270) 762-0040


54 Main Street
Benton, KY 42025
(270) 527-3065


15 Spring Street
Erin, TN 37061
(931) 289-4045


83 Main Street
Benton, KY 42025
(270) 527-2399


114 W Washington St
Paris, TN 38242
(731) 644-3288


610 Donelson Parkway
Dover, TN 37058
(931) 232-5927


189 Extension Street
Camden, TN 38230
(731) 584-3026


138 Hwy 641 S
Camden, Tn 38320
(731) 584-2646


1055 Mineral Wells Ave
Paris, TN 38242
(731) 642-7224


5923 E Main St
Erin, TN 37061



2966 US Highway 62
Calvert City, KY 42029
(270) 395-0598


600 Spruce St
Paris, TN 38242
(731) 641-0404


570 Broadway
New Johnsonville, TN 37134
(931) 535-3737


13690 Highway 69A
Big Sandy, TN 38221
(731) 593-5533


1056 Mineral Wells Ave
Paris, TN 38242
(731) 644-0001


53 Days Inn Dr
Kuttawa, KY 42055
(270) 388-0811


31 Carroll Dr
Draffenville, KY 42025
(270) 527-1500


2911 US Highway 62
Calvert City, KY 42029
(270) 395-7827


807 Walmart Drive
Murray, KY 42071
(270) 917-1111


314 Main Street
Hazel, KY 42049
(270) 492-8226


1301 Main Street
Murray, KY 42071
(270) 753-7715


14A Broadbent Blvd
Cadiz, KY 42211
(270) 522-4433


107 North 12 Street
Murray, KY 42071
(270) 753-5548


84 Commerce Boulevard
Benton, KY 42025
(270) 252-1696


44 E Bridge St
Big Sandy, TN 38221
731) 333-2165


14275 Highway 79 North
Buchanan, TN 38222
(731) 924-5060


57 Hospitality Lane
Cadiz, KY 42211
(270) 522-1444


406B West 5th Street
Benton, KY 42025
(270) 559-4505


14765 Highway 641 South
Holladay, TN 38341
(731) 854-4902


11728 US Highway 68 E
Benton, KY 42025
(270) 527-1030


57 Hospitality Lane
Cadiz, KY 42211
(270) 522-1444


1055 Mineral Wells Ave # 10
Paris, TN 38242
(731) 642-3626


1311 Donelson Pkwy
Dover, TN 37058
(931) 232-4903


131 US Hwy 641 N
Camden, TN 38320
(731) 584-7600


753 Leatherwood Bay Rd
Dover, TN 37058
(931) 232-5137


618 North 12th Street
Murray, KY 42071
(270) 767-0300


300 North 12th Street
Murray, KY 42071
(270) 761-3865


905 Mineral Wells Avenue
Paris, TN 38242
(731) 642-5030


1505 Donelson Parkway
Dover, TN 37058
(931) 232-0005


211 Highway 641 North
Camden, TN 38230
(731) 584-5580


1055 Mineral Wells Ave
Paris, TN 38242
(731) 642-1308


314 US Hwy 641 N
Camden, Tn 38320
(731) 213-2700


Bel-Air Shopping Center
Murray, KY 42071
(270) 753-0440


1875 Highway 69 South
Paris, TN 38242
(731) 407-4694


29 Days Inn Drive
Kuttawa, KY 42055
(270) 388-0373


1394 Highway 79
Dover, TN 37058
(931) 305-6562


123A D.J. Everett Dr
Cadiz, KY 42211
(270) 874-2858


203 Tyson Avenue
Paris, TN 38242
(731) 644-0588


402 Church Street
Dover, TN 37058
(931) 232-3002


88 Outlet Avenue
Eddyville, KY 42038
(270) 388-7727


2305 East Wood Street
Paris, TN 38242
(731) 642-8667


2397 State Route 94 East
Murray, KY 42071
(270) 978-7147


318 Main Street
Hazel, KY 42049
(270) 492-8195


402 West 5th Street
Benton, KY 42025
(270) 208-4277


6805 Tennessee 13
Erin, TN 37061
(931) 289-5151


1303 Main Street
Murray, KY 42071
(270) 753-4925


2255 E Wood St
Paris, TN 38242
(731) 644-1900


5601 Gilbertsville Hwy
Calvert City, KY 42029
(270) 395-5174


1067 Mineral Wells Ave
Paris, TN 38242
(731) 642-1041


1881 J. H. O'Bryan Ave.
Grand Rivers, KY 42025
(270) 362-0611


124 US 62
Eddyville, KY 42038
(270) 388-4354


3885 US Highway 62
Calvert City, KY 42029
(270) 395-0229


201 Cherokee Hill's Dr
Buchanan, TN 38222
(731) 232-6045


9 Dogwood Street
Henry, TN 38231
(731) 243-2009


2120 Old Johnsonville Road
New Johnsonville, TN 37134
(931) 535-3827


65-B Main Street
Cadiz, KY 42211
(270) 522-0806


2200 US 641
Camden, TN 38230
(731) 584-0554


3500 State Park Road
Cadiz, KY 42211
(270) 924-1131


605 S 12th Street Suite C
Murray, KY 42071
(270) 762-0441


16814 US Highway 68 East
Aurora, KY 42048
(270) 474-2202


244 US Highway 68 East
Draffenville, KY 42025
(270) 527-1493


77 W Main St
Puryear, TN 38251
(731) 247-3060


107 Joiner Hollow Road
Big Rock, TN 37023
(931) 232-8500


203 TN-149
Erin, TN 37061
(931) 289-5848


31 Commerce St.
Cadiz, KY 42211
(270) 206-9197


970 Chestnut St.
Murray, KY 42071
(270) 753-2975


127 US Hwy 68 East
Draffenville, KY 42025
(270) 527-3308


281 West Main Street
Camden, TN 38230
(731) 584-0302


2115 Dover rd
Grand Rivers, KY 42045
(270) 362-4586


1522 US 79
Dover, TN 37058
(931) 232-7217


109 Carroll Rd
Draffenville, KY 42025
(270) 252-9223


143 US Hwy 641 N
Camden, TN 38320
(731) 584-8739


74 Hospitality Lane
Cadiz, KY 42211
(270) 522-0600


2501 East Wood Street
Paris, TN 38242
(731) 642-8842


1021 Mineral Wells Avenue
Paris, TN 38242
(731) 644-1810


2120 Old Johnsonville Rd.
New Johnsonville, TN 37134
(931) 535-3827


2299 US-62
Kuttawa, KY 42055
(270) 388-8196


1321 E Wood St
Paris, TN 38242
(731) 641-1334


50 Overlook Lane
Stewart, TN 37175
(931) 721-3321


110 Keel Hollow Rd
Dover, TN 37058
(931) 232-1272


5985 Tennessee 49
Erin, TN 37061
(931) 289-3034


310 Donelson Parkway
Dover, TN 37058
(931) 232-7919


1939 Main St. Suite C
Cadiz, KY 42211
(270) 978-7675


31 Carroll Dr
Draffenville, KY 42025
(270) 527-1030


3442 US Highway 62
Calvert City, KY 42029
(270) 395-4575


8060, 9 Goose Hollow Rd.
Cadiz, KY 42211
(270) 522-0123


1628 Main Street
Cadiz, KY 42211
(270) 522-0505


1940 J. H. O'Bryan Ave.
Grand Rivers, KY 42025
(270) 508-0368


120 Highway 641 North
Camden, TN 38230
(731) 584-3000


201 Rose Ella Dr suite 101
Dover, Tn 37058
(931) 627-6022


402 West 5th Street
Benton, KY 42025
(270) 527-0708


5878 Hopkinsville Road
Cadiz, KY 42211
(270) 522-3235


1012 Mineral Wells Avenue
Paris, TN 38242
(731) 644-1300


215 Ruff Street
Paris, TN 38242
(731) 336-9668


106 Highway 641 North
Camden, TN 38230
(731) 584-2804


1842 Canton Rd
Cadiz, KY 42211
(270) 206-9239


123B D.J. Everett Dr.
Cadiz, KY 42211
(270) 512-0205


10030 Lick Creek Rd.
Big Sandy, TN 38221
(731) 593-2385


1501 North 12th Street
Murray, KY 42071
(270) 753-4521


1550 Lowe's Dr.
Murray, KY 42071
(270) 759-4653


1411 Main Street
Murray, KY 42071
(270) 759-1234


315 W 5th St #400
Benton, KY 42025
(270) 906-2888


1036 Mineral Wells Ave
Paris, TN 38242
(731) 407-7360


410 Main St
Murray, KY 42071
(270) 767-0020


5739 TN-13
Erin, TN 37061
(931) 289-4504


616 Broadway
New Johnsonville, TN 37134
(931) 535-4030


14201 US 79 North
Buchanan, TN 38222
(731) 407-7474


329 Main St.
Benton, KY 42025
(270) 906-2031


413 South 4th Street
Murray, KY 42071
(270) 753-1155


302 West Wood Street
Paris, TN 38242
(731) 642-1952


974 Chestnut Street
Murray, KY 42071
(270) 753-5434


35 Metcalf Drive
Erin, TN 37061
(931) 289-5300


409 North 12th Street
Murray, KY 42071
(270) 917-2729


2184 US Highway 62
Gilbertsville, KY 42044
(270) 362-4278


1324 E Wood St
Paris, TN 38242
(731) 642-1795


4560 US Highway 62
Calvert City, KY 42029
(270) 395-0000


814 North 12th Street
Murray, KY 42071
(270) 759-8266


15555 Highway 79 North
Buchanan, TN 38222
(731) 642-7637


4388 US Highway 62
Calvert City, KY 42029
(270) 395-7818


24 Outlet Avenue
Eddyville, KY 42038
(270) 388-4425


311 Highway 641 North
Camden, TN 38230
(731) 584-2440


911 Mineral Wells Avenue
Paris, TN 38242
(731) 642-4075


154 West Main Street
Camden, TN 38230
(731) 584-3900


1020 Mineral Wells Avenue
Paris, TN 38242
(731) 642-2788


500B South 12th Street
Murray, KY 42071
(270) 761-7777


Upper Village Drive
Gilbertsville, KY 42044
(270) 362-4271


42 Days Inn Drive
Kuttawa, KY 42055
(270) 388-0777


423 E 12th St
Benton, KY 42025
(270) 387-7080


668 North 12th Street
Murray, KY 42071
(270) 992-6500


402 North 12th Street
Murray, KY 42071
(270) 753-8758


818 N 12th St
Murray, KY 42071
(270) 761-2858


80 Merchant Street
Cadiz, KY 42211
(270) 522-7555


468 Kennedy Ave
Calvert City, KY 42029
(270) 395-5454


928 5th Ave SE
Calvert City, KY 42029
(270) 395-0099


400 Lodge Road
Buchanan, TN 38222
(731) 642-4311


117 Newman Dr.
Eddyville, KY 42038
(270) 388-4500