Anyone looking to make a golf getaway to Kentucky Lake and Lake Barkley will be pleased at the variety of courses available to golfers visiting the region.
Golf packages are available through some of the state parks in both Kentucky and Tennessee. These often include lodging, golf carts and preferred tee times in the package.
There are also a number of private golf courses in the region that provide wonderful experiences for golfers of all ages.
Golf Courses and Lodging
Whether you're looking to take in a quick nine holes in the morning or afternoon, or you're wanting to play an 18-hole golf course, Kentucky Lake and Lake Barkley offer a number of desirable options for golf enthusiasts. With vacation rentals and lodges available on site or nearby, a golf outing is a cinch to coordinate.
Golf Courses
Bronze Level Golf Courses...
3 Diamond Resort
18-Holes
Par 72
Public
6694 Yards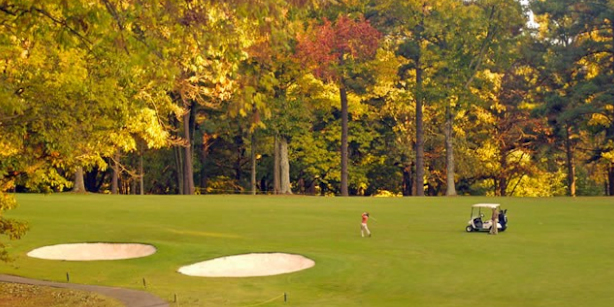 Other Golf Courses...
363 Oaks Country Club Road
Murray, KY 42071
(270) 753-6454


199 Country Club
Calvert City, KY 42029
(270) 395-5831


1 Torrey Pines
Ledbetter, KY 42058
(270) 898-4653


16055 Highway 79 North
Buchanan, TN 38222
(731) 641-4311


1120 Puryear Country Club Road
Puryear, TN 38251
(731) 247-3264


50 Finch Lane
Eddyville, KY 42038
1-866-904-7888


596 US Highway 68 W
Draffenville, KY 42025
(270) 527-5284


College Farm Road
Murray, KY 42071
(270) 753-6113


2711 Blue Springs Rd
Cadiz, KY 42211
(270) 924-1131


1647 N 16th Street
Murray, KY 42071
(270) 753-1152


900 Old Tennessee Trail
Springville, TN 38256
(731) 642-7271


1830 Golf Course Road
Benton, KY 42025
(270) 527-9673


2814 Pottertown Road
Murray, KY 42071
(270) 762-2238


Arcadia Drive
Murray, KY 42071
(270) 762-0324


2252 Eva Road
Camden, TN 38320
(731) 584-9964


< Back to Things To Do in the Kentucky Lakes Area