About Lighthouse Landing
Escape to Lighthouse Landing, Kentucky's most picturesque Resort & Marina. Nestled on the shores of Kentucky Lake, our 1,2,& 3 bedroom cottages have the most AMAZING views! The cottages and guest rooms are designed with comfort and relaxation in mind. Secluded but accessible, we are a short walk or golf cart ride to downtown Grand River's, where you'll find quaint shops, several dining choices, and many activities and events throughout the year. Bring your boat, learn to sail, go fishing, take a stroll through town or hike in Land Between the Lakes. Simply sit back and relax at your private cottage and savor the breathtaking sunsets!
Cottages
Guests will enjoy a beautiful Kentucky Lake view from one of the cottages available on site. Comfort is the key in these one, two and three bedroom cottages overlooking the lake and harbor. Always clean and well maintained, each quaint cottage comes equipped with amenities to match the view from guests' very own private deck. Designated dog-friendly cottages, laundry facilities, golf cart rentals, and Wi-Fi is available on site. Visit their website for seasonal discounts and other frequently asked questions.
RV Park
Nestled in the shade of the lakeside woods, Lighthouse Landing RV Park offers 39 seasonal RV sites. Each spacious site offers water, electric hook-up and sewer, as well. Dump station, laundry facilities and two bathhouses are conveniently located on the premises. The marina, boat ramp, beach and laundry facilities are nearby, making this RV Park conveniently located for just about any lakeside adventure visitors will want to take.
The Marina
Upon entering the resort, visitors' first view is filled with a sea of masts stemming from boats that have traveled from states and towns, near and far. Located in a well-protected harbor, this beautiful marina contains 190 open slips for boats up to 42' and can be rented yearly or daily. Boat slip customers have access to city water, electricity, bathhouses, laundry, Wi-Fi and self-service waste pump out. Both power and sail boats are welcome. Gas and diesel fuel are available for sale at local facilities.
Sailing School
Lighthouse Landing provides quality instruction in the art of sailing. Whether an experienced sailor looking to enhance his skills or a newcomer to the sailboat scene who wants to learn the craft, visitors will find no better place to learn or hone their sailing techniques than at Lighthouse Landing's Sailing School. The school has offered top-rated sailing lessons since 1977. Details on the certified American Sailing Association's 4-day course can be found on the resort's website.
Sailboat Sales
In addition to lessons, those in the market to purchase a sailboat will appreciate the exceptional customer service and expertise provided by Lighthouse Landing, LLC. For almost 40 years, the resort has provided a diverse selection of pre-owned sailboats to customers in the Ohio and Tennessee Valley region. The sales team is knowledgeable and passionate about the sailboats they sell and will work hard to assist customers in selecting a boat that best meets their family's needs. A current list of boats for sale can be found on the resort's website.
Recreational Amenities
Other amenities include the Lighthouse Landing Lake Access Area, which offers gorgeous views of Kentucky Lake, as well as a gravel beach area, picnic tables, charcoal grills, and a large fire pit. Rent one of our golf carts and cruise through downtown. A public boat ramp is available. Boat slips are available for an additional fee. Guests can also take a stroll on the Grand Rivers Walking Trail. This quaint path begins at the Grand Rivers Jetty, adjacent to Lighthouse Landing. The path extends out into Kentucky Lake, and includes an open gazebo with benches at the end, making it a popular spot for a small wedding or just to sit and watch the sunset.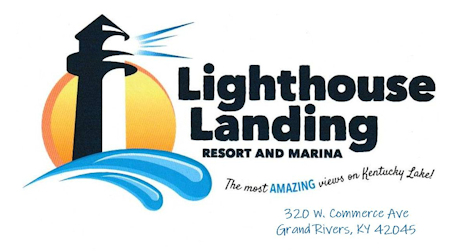 320 W Commerce Ave.
Grand Rivers, KY 42045
Reservations: 1-800-491-7245
Other Inquiries: 270-362-8201
GPS Coordinates: 37.001524, -88.238883

Lighthouse Landing Lodging Types
Resort, Cottages, Marina, Campground
Lighthouse Landing Amenities
Lakeside Cottages
Marina
RV Park
Sailboat Sales
Service W-15T Hoist
Sailing School
Golf Cart Rentals
Tritoon Rentals
Merchandise Store
Beach Area w/Grills & Chairs
Lighthouse Landing Location